Chapter Involvement in Political Process Sets the Stage for Building Relationships and Effecting Change
Dec 15, 2021
By Brannon Gray
NCPBA Southeastern Chapter President
The Southeastern Chapter of the Police Benevolent Association covers Brunswick, New Hanover & Pender Counties.
Last fall, the chapter made the decision to become involved in four political races for Wilmington City Council and Mayor.
The PBA political process is a time-honored tradition that has been in place for decades and was created by our founder Charlie Maddox. This process involves the members as they discuss what issues they want to address politically. Our members focused on several issues that included what the candidate's thoughts were on defunding the police, retention of officers, and a binding policy for whistleblower protection.
After approval from the legal staff, the questions are mailed to the candidates with an invitation letter. This allows the candidate the opportunity to prepare for what is a job interview and to understand the significant issues facing officers. On the day of the interview, the candidate meets with the screening committee. This group of members volunteers their time to grade the candidate's responses to the questions and make recommendations to the board on final endorsements. Once the endorsements are made all candidates are notified of their results. The board then goes to work to help the candidates get elected. The PBA is fortunate to have a PAC fund that is supported by our members. The endorsed candidates were presented a check from this fund to help with their campaign. A press release was also sent to local media outlets and the members were notified of the candidates who were endorsed. Social media advertisements were used in this process and candidates are asked to provide a quote about the endorsement.
Mayor Saffo said: "I am honored to receive the endorsement of the Southeastern Chapter of the North Carolina Police Benevolent Association. "As Mayor, public safety is my highest priority, and I am grateful to our law enforcement officers every day for their continued hard work and dedication. I look forward to continuing to partner with our city, county, state, and Federal law enforcement professionals in my next term as your Mayor."
Saffo attended Hoggard High School in 1978, and UNC-Wilmington. He is a real estate agent and is very involved in his church. This is his ninth election to office for the City of Wilmington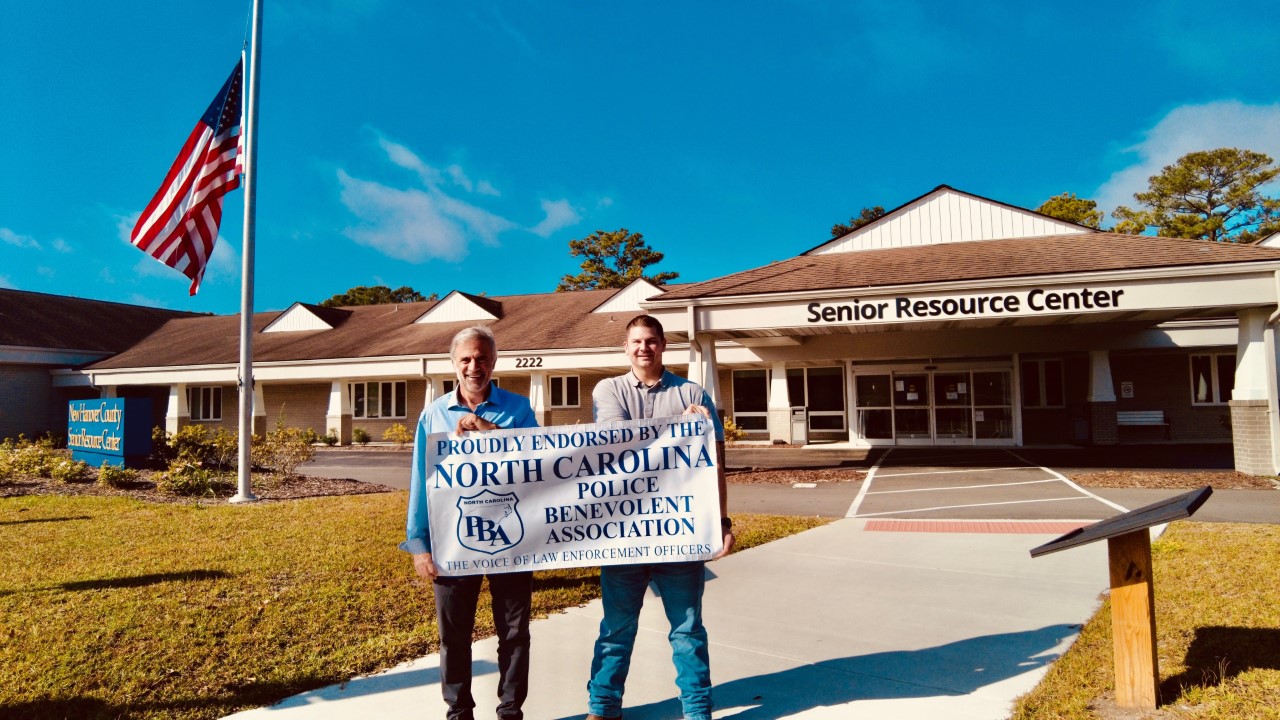 President Gray at the Polling Site with Mayor Saffo
Councilmember Clifford Barnett said, "I am honored to receive an endorsement of my candidacy from the Police Benevolent Association. I stand behind that great work our police officers do every day as they protect and serve all of us. May God protect each of you, to get back home safely to your families." Barnett is a pastor at Warner Temple AME Zion Church which has a large congregation in the downtown area of Wilmington. His community role proved vital to the city, during the riots of 2020. Councilman Barnett was able to assist in the de-escalation of force from law enforcement and the reduction of damage by the would-be rioters. Councilman Barnett is the founder of Bridges to Success, which is designed to assist students and families who have been suspended from a middle or high school. Barnett is on his second elected term for the city of Wilmington.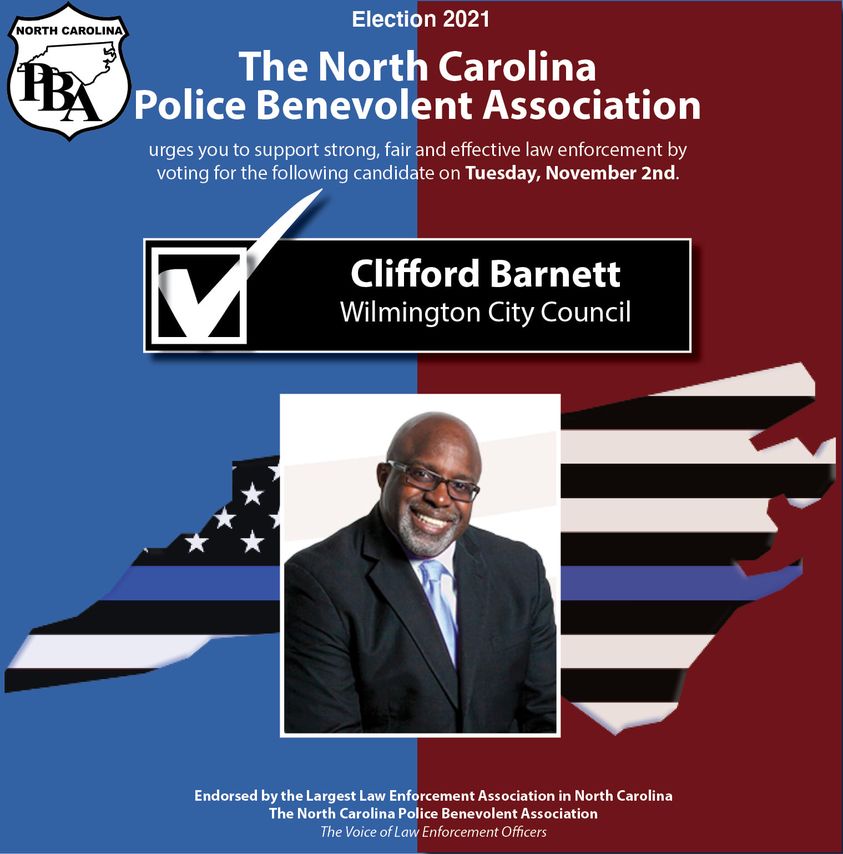 Councilmember Charles Rivenbark said, "To be worthy of PBA's endorsement is truly an honor for me and my campaign. I pledge that I will always have the very best interests of law enforcement in mind and more particularly the membership of the PBA as I always have. Thank you." Rivenbark graduated from New Hanover High in 1967 and enlisted in the United States Army in 1969 serving in Vietnam and was discharged in 1971 as a Sergeant. He then attended UNC-Wilmington while owning several local businesses. He is in real estate currently and an active community volunteer that help take care of one of the largest cemeteries in Wilmington. Rivenbark is now on his sixth term elected for the City of Wilmington.
On election day each of these candidates won their respective races. As part of the process, the chapter has continued to have communication with these elected officials and will be scheduling additional screenings this year in various races. This process has proven to be extremely beneficial, and the Southeastern Chapter is looking forward to continuing the positive work that political involvement can provide.
(Biographical information about the candidates was taken from the respective websites)