NCPBA Executive Director
John Midgette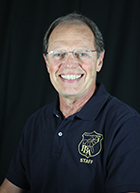 NCPBA Executive Director
1-800-233-3506 ext 643
Contact John
John is a 17 year law enforcement veteran. He began his career in law enforcement in 1974 with the Raleigh Police Department where he served for 15 years before being hired by the SSPBA as a staff representative in 1989.

PBA membership was introduced to his department in 1986. He immediately joined fellow officers in forming a local PBA chapter. After holding the first ever candidate screening of the local city council his chapter was active in working with PBA endorsed council members in obtaining new equipment, increasing longevity pay, creating the first ever lateral career ladder promotional positions, a new sergeant's promotional exam and the largest one time across the board pay increase for police officers in our city's history.

After serving as a part time staff representative in 1988 John accepted a full time position on January 2, 1989. He was appointed as Executive Director of the North Carolina Division in September, 1989 and became the division's primary lobbyist in 1990 where he continues to serve in those roles today.

John holds a BS degree from Atlantic Christian College. He received his Advanced Law Enforcement Certificate in 1984 and has received over a thousand hours of advanced law enforcement training. He considers it an honor that he served all of his law enforcement career as a street cop. He has served as a community college law enforcement instructor at Central Carolina Community College and as a guest lecturer at the university level and before various criminal justice organizations in matters involving due process and the rights of law enforcement officers.
John and his wife Teresa have three sons named Matthew, Adam and Christopher.
"I have the honor of serving and representing those whom I admire most through an Association that is the finest in the business in serving and protecting law enforcement and correctional officers. For me, It gets no better that this."