David Rose Elected North Carolina Division President
Jan 22, 2022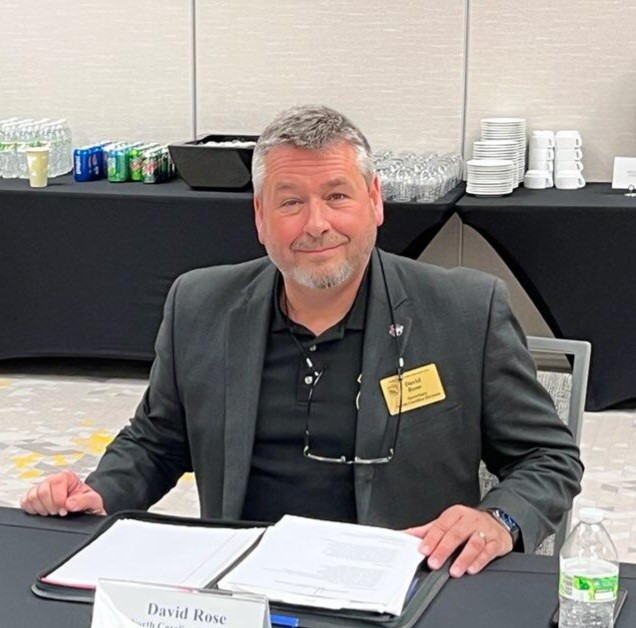 David Rose
On Jan. 22, 2022, David Rose was elected by the NCPBA Board of Directors as the next North Carolina Division president during its annual board meeting in Cary.
Longterm President Randy Byrd, who served 12 years in the role, decided to not seek re-election.
David Rose was born in Fort Oglethorpe, Ga., and was raised in east Tennessee and southwest Virginia. He is one of seven sons, and he has a twin brother. Rose graduated from Kingsport Christian High School in 1989. While attending high school, he lettered in basketball, baseball, soccer and track.
After high school, Rose attended college at what is now Piedmont International University in Winston-Salem. While there, he met his wife, Nichole. Rose would go on to earn his bachelor's degree in management and ethics from John Wesley College.
The Roses have been married 28 years. Nichole Rose is a lifelong educator and serves as the director of Leadership Development for the Winston-Salem/Forsyth County school system. They have two sons, Tyler Rose (wife Sydney, son Wyatt) and Austin Rose. Tyler Rose is a police officer in King, N.C., and Austin Rose is a firefighter for the Winston-Salem Fire Department.
David Rose began working for the Winston-Salem Police Department in August 1995. While there, he has served as a patrol officer, foot patrol officer, robbery detective and a homicide detective. He was promoted to sergeant in October 2006, and he served as a supervisor of one of the agency's two vice/narcotics squads.
In 2017, Rose was promoted to lieutenant and served as a patrol lieutenant before being transferred back to the department's vice/narcotics unit where he currently serves as the unit's only lieutenant.
In fall 2015, Rose chaired the steering committee that re-established the Winston-Salem Triad Chapter of the NCPBA. Under Rose's leadership as president, the chapter began to participate in, and hold its own candidate screenings. These screenings resulted in several endorsed city council candidates being elected to office. His continued commitment to the PBA process led to him forming working relationships with council members and local state representatives.
Rose's dedication to the members he represents was instrumental with the Winston – Salem City Council passing a 5% pay incentive for WSPD officers that are veterans of the US military.
Another example of Rose's work occurred in June 2020 when a council member proposed re-allocating $1 million from the budget away from the Winston-Salem Police Department. Rose was on vacation at the beach but took time out to contact council members on behalf of the members that he represents. His efforts led to the monies remaining in the police budget.
Rose has also worked to support candidate screenings around the state and regularly visits the N.C. General Assembly to speak with legislators about PBA legislation.
In March 2019, Rose was elected secretary of the NCPBA. In 2017, N.C. Attorney General Josh Stein appointed him to serve a three term to the N.C. Criminal Justice Education and Training Standards Commission. In 2021, Speaker of the House Tim Moore appointed him to serve a two-year term.
Rose is joined on the executive board by Wardell Williams, who is serving as his senior vice president. Williams also serves as the president of the Corrections Chapter. Steve Anthony is the president of State Law Enforcement Chapter and will serve as vice president. Rick Tullis, the president of the N.C. Mountain Chapter, will serve as secretary.
As Rose assumes his new role, he offered the following thoughts about his election and his vision for the future. "It is the honor of my lifetime to chosen to serve in this capacity," said Rose. "I am excited about continuing the phenomenal work the PBA has done in N.C.
"I plan to work tirelessly to continue to develop chapters across the state, to grow our membership, and to aggressively pursue a legislative agenda that addresses early retirement options, PTSD, whistleblower protections, due process for Giglio and disciplinary matters, and a permanent seat for the PBA on the N.C. Criminal Justice Education and Training Commission," Rose continued.