Elaine Marshall is NCPBA Choice for Secretary of State
Sep 26, 2016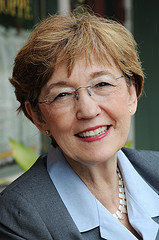 The North Carolina Police Benevolent Association has chosen to endorse Elaine Marshall for Secretary of State. As Secretary of State, Elaine has received international recognition for her efforts to protect copyrights and deter counterfeit goods. The Secretary of State's office today is a key law enforcement agency protecting consumers, investors, and charitable givers against securities fraud and financial scams. Elaine's commitment to protecting investors and combating financial fraud has led to the recovery of hundreds of millions of dollars from major Wall Street banks for North Carolina investors and charities. Under Elaine's leadership the Secretary of State's office has worked with the FBI and US attorney's offices to obtain convictions of several of those responsible for the fraud.
Upon notification of her endorsement from the North Carolina PBA, Marshall said, "As an administrator with law enforcement staff, the PBA endorsement is very meaningful to me. I understand the commitment of the dedicated men and women who potentially face danger every day to protect us."
President of the North Carolina Division Randy Byrd said, "We are proud to endorse Elaine Marshall in her re-election bid for Secretary of State. Her experience and service to the citizens of North Carolina is unparalleled as a public servant.
*Information in this article came from www.elainemarshall.com