Gun Shop Honors Jefferson County Detective
Mar 15, 2022
By Randy Byrd
Foundation and Media Relations
SSPBA
Jefferson County sheriff's Detective Noah Parsons was recently named First Responder of the Month by Line of Fire, a gun shop in Moody, Ala., for his actions during a domestic violence call.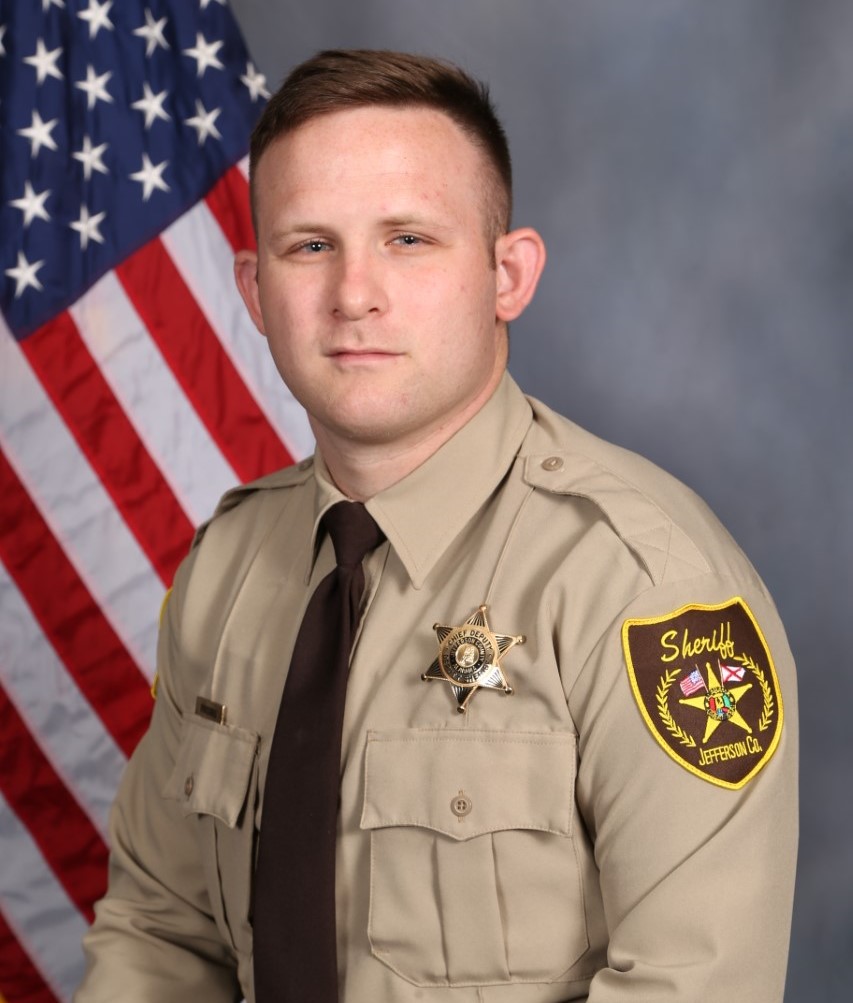 Detective Noah Parsons
Domestic violence in America is well-known to law enforcement officers and is borne out by staggering statistics. According to the National Coalition Against Domestic Violence, 10 million people a year are abused by an intimate partner. The presence of a gun in a domestic violence situation increases the risk of homicide by 500 percent. The same organization says that 1 in 15 children are exposed to intimate partner violence each year, and 90 percent of them are eyewitnesses to this violence.
Parsons was nominated by a domestic violence victim after he responded to her house when her then-spouse was threatening to commit suicide with a firearm in front of her and their children. He and his partner were able to take the husband into custody. The woman and children were unharmed.
The woman and the detective were later interviewed by Stoney Sharp, a morning reporter with an ABC television affiliate in Birmingham, for the station's Talk of Alabama segment.
"Noah Parsons literally saved my life," the woman said during the interview. "He was one of the first responders to show up at my home in Birmingham on a domestic violence call. There was an incident in my home, and I was afraid for the safety of myself and my young daughters. Noah made sure that my daughters and I were safe and physically OK."
Parsons spoke about his actions that day.
"Once we got inside, we got everything secured," he said. "My first thought was to get to the family and make sure the kids were okay. I've got kids of my own, and that is the first thing I wanted to make sure (of)."
The on-air personality also read some compelling comments the woman made about Parsons.
"There is a song, 'Rescue,' by Lauren Daigle, that truly represents the literal rescue that God sent for me in the form of Noah and his partner," the woman said. "Noah deserves this honor, and I hope that he is chosen for this (honor). While I still no longer reside in Alabama, I keep in touch with Noah and his family and have been blessed with the friendship and support that this has brought to my life."
Parsons is originally from West Jefferson. His father was a tugboat mechanic, and his mother was an administrative assistant for a local university. He played football on two championship teams at Bessemer Academy, from which he graduated in 2010. He majored in criminal justice and minored in psychology at University of Alabama Birmingham, from which he graduated in 2016.
Impassioned by the desire to make a difference in the lives of others led him to the Jefferson County Sheriff's Office in that same year.
After completing the academy, he began work as a detention officer. His next stop was on patrol, then to investigations as a property crimes detective. Soon thereafter, he moved into his assignment in Youth Services, where he investigates cases involving juvenile victims or suspects.
Along the way, he has been greatly influenced by those that took interest in his development. He credits his partner, Shane Williams — who took him under his wing as a patrol deputy, then as a detective. Parsons said Williams not only showed him how to investigative crimes but how to show care for the victims.
A favorite quote from Maya Angelou drives his empathy with victims. Angelou said, "I've learned that people will forget what you said, people will forget what you did, but people will never forget how you made them feel."
Parsons also credits Sgt. Michael Jackson and retired Lt. Ellen Scheirer with helping mold him into the six-year veteran he is today.
The lawman is married to his wife, Emma, and they have a daughter, Blair. He also has a 13-year-old son, Crafton, from a previous marriage. In his spare time, he is an ardent video gamer.
We are proud to have Detective Parsons as a valued PBA member. He became a member to have that extra layer of protection. We are glad we can provide that to him as he does with victims.