Meet Alabama Division Senior Vice President Jon Riley
Jun 10, 2022
By Randy Byrd
Foundation and Media Relations
SSPBA
Jon Riley became a PBA member like many others throughout the years. When he started working with the Dothan Police Department in 1999, senior officers approached him about joining the PBA. They explained the benefits of membership and gave him examples about fellow officers that needed the services of the PBA. Little did Riley know that this would lead him to a PBA career of leadership and advocacy on behalf of members.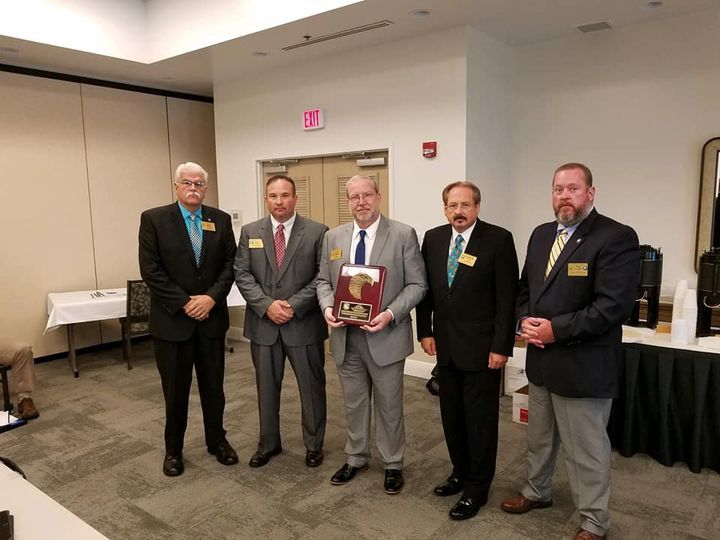 Jon and fellow Division Board members presenting award at Division Board meeting
In a couple of years, members of the local board talked to him about running for secretary. The Wiregrass Chapter was working on succession planning because of retirements and they needed new leaders. Riley ran for a seat on the board out of a sense of duty, but also thought it was a good opportunity to give back to a profession that had given him a career start.
Several months later, his commitment to the PBA became real when he was called by members who were also personal friends. They had been involved in an officer-involved shooting and could not remember the 1-800 number for the PBA. Riley called the number and ensured an attorney was enroute to the scene. He then drove to the scene to be with them until their attorney arrived. This was a pivotal moment for him because he realized that standing side by side with an officer who had just been involved in a critical incident was exactly where he needed to be.
"I have always enjoyed standing with law enforcement officers whether it is on the scene or in a city council meeting," he said.
His PBA work later led him to the Alabama State Law Enforcement Chapter, after he became an ABC agent. In 2010, he was elected senior vice president of that chapter. He was also honored as PBA Member of the Year that same year. Three years later, the chapter elected him president and he served one term. The board of the Alabama Division also elected him as the senior vice president where he continues to serve.
As a senior-vice president of the Alabama Division, Riley has worked to further expand his knowledge and his service as PBA leader.
"I have enjoyed learning from our various chapter board leaders and from the ideas they present," he said. "I attend local chapter meetings to know what issues our members are having throughout the state and assist when resolutions are possible."
His work also led to further involvement in the PBA political process with interviews and endorsements.
"The most important work I do, however, as a PBA leader is to make myself available to a PBA member that has a need," he said.
Clark Hopper knows firsthand about Riley's commitment to the PBA and its members. A decade ago, Hopper was the president of the Etowah/Cherokee Chapter and Riley was the secretary of the State Law Enforcement Chapter. They would see each other at the annual Alabama Division board meeting and became friends. Later, they would both serve on the State Law Enforcement Chapter board when Hopper became president and Riley became vice president.
Their work together became even more involved, and their friendship continued to grow. Riley was elected president and was instrumental in supporting Hopper to run for his seat when he transitioned off the board.
"It wasn't until I was elected as the president of the chapter that I truly learned the value of what he means to the PBA," Hopper said. "He never fails to answer a phone call and always ensures that our board meetings are flawless. He is my right-hand man."
Hopper also has respect for Riley as a family man.
"He always talks about his wife and kids, and it is apparent that he truly loves them," he said.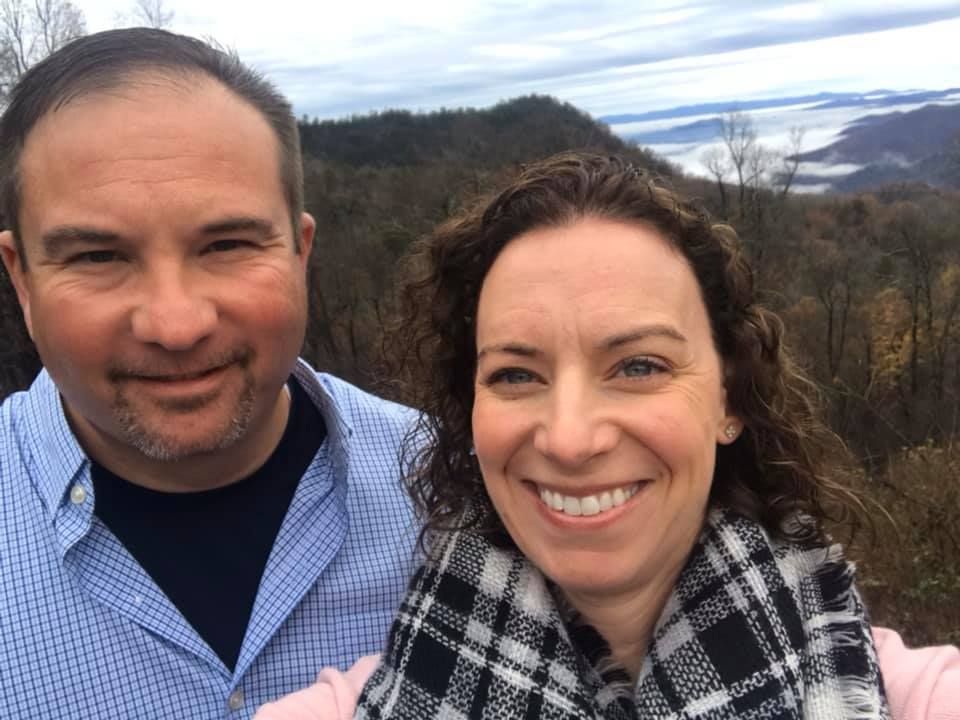 Jon and his wife Sabrina in the NC Mountains
Richard Holston has worked with Riley for several years and has also served with him on the State Law Enforcement Chapter board.
"John is a leader and supervisor that we all wish we had," Holston said.
Holston credits this to Riley's welcoming personality and his willingness to always lend a helping hand to those around him. "I am lucky to call him a friend," he continued.
Riley was born and raised in Ariton, Ala., a small farming community north of Dothan, in Dale County. His mother was a licensed practical nurse who worked for a doctor's office in town and for a hospital in obstetrics. His father was never really in the picture, by Riley's account.
He graduated from Ariton High School in 1992, where he played center and middle linebacker in football and was a first basemen on the baseball team.
Riley likes to say that the career of law enforcement found him after high school. He learned about a job opening for a dispatcher in Ariton and thought it would be more interesting than other jobs. He was right and enjoyed working as a dispatcher but after five years, he decided to become a police officer.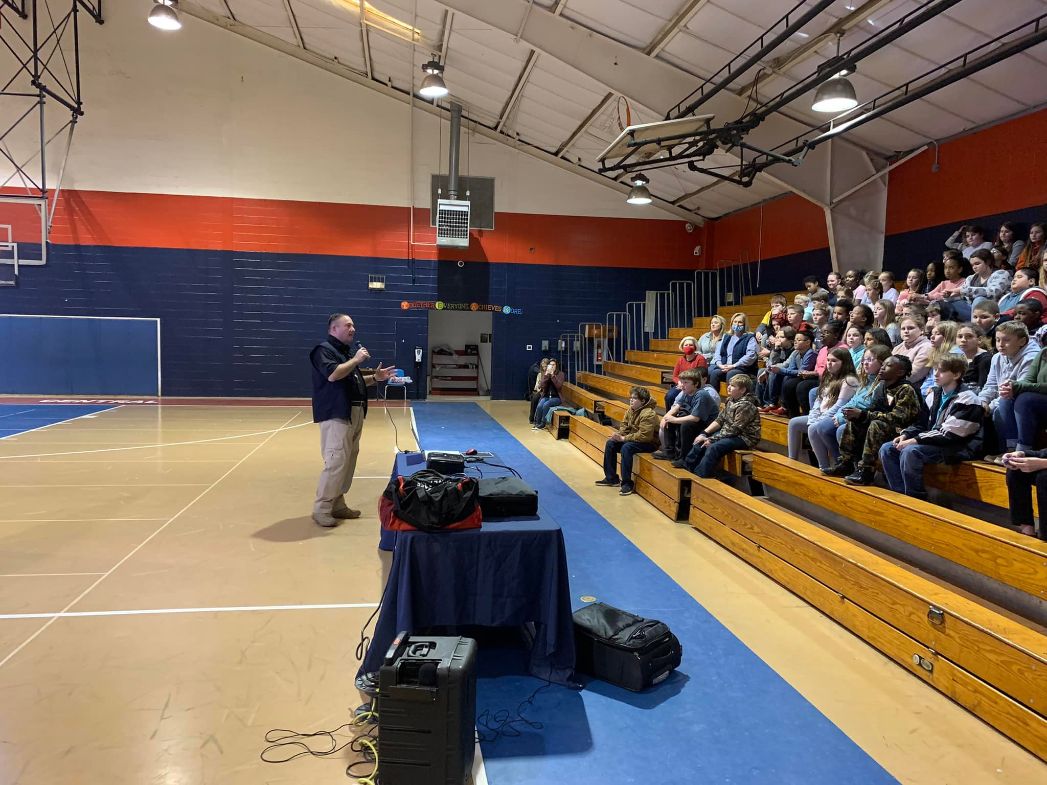 Jon speaking to students at Ashland Alabama Elementary School
One of the biggest influences in his career was Ben Key. Key was a lieutenant with the Dale County Sheriff's Office. They both lived in Ariton, and he went to school with his three daughters. Riley remembers him as the consummate professional who always took the time to stop and talk to people.
"He set the example for me to follow as a law enforcement officer and always kept up with my career and wanted to know how I was progressing," Riley said.
The Ozark Police Department came next. They sent him to him to the Southwest Alabama Police Academy. He later transferred to the Dothan Police Department where he gained more experience. Working vice and narcotics, along with being a medic on the SWAT team, were part of that experience.
After a short stint in the private sector at a nuclear plant, he began work in his role with the ABC Board for Alabama in 2007. His new job took him from Dothan to Birmingham, and a year later, the agency recognized him as the ABC Agent of the Year. In 2010, he was promoted to sergeant. The promotion led him to the Tuscaloosa office where he supervised field operations.
In 2015, the legislature created the Alabama Law Enforcement Agency. This legislation placed all state law enforcement agencies under one umbrella. The State Bureau of Investigation was developed as part of the legislation. Riley became part of the new division and in 2016, he was promoted to lieutenant. He served in the Major Crimes Unit and as the regions' public information officer. He oversees the Alcohol and Rural Crimes Unit. His area of supervision covers eight counties in the Birmingham and Anniston area.
Riley has been married to Sabrina for three years. Sabrina was with the U.S. Secret Service for 18 years. She spent three years as a uniformed officer and 15 years as an agent. She works as a network security project manager for an international electrical supply company. Riley has a 19-year-old son, Trevor, and two younger stepdaughters, Emily and Allison.
Riley is an avid angler. Along with fishing in his spare time, he loves hiking the wooded trails around the Cahaba River near his home. He is a huge fan of SEC football. He readily admits to staying near a television on Saturday afternoons during the season. Local travel is also part of his down time as he likes traveling to various parts of Alabama and to state parks in surrounding states.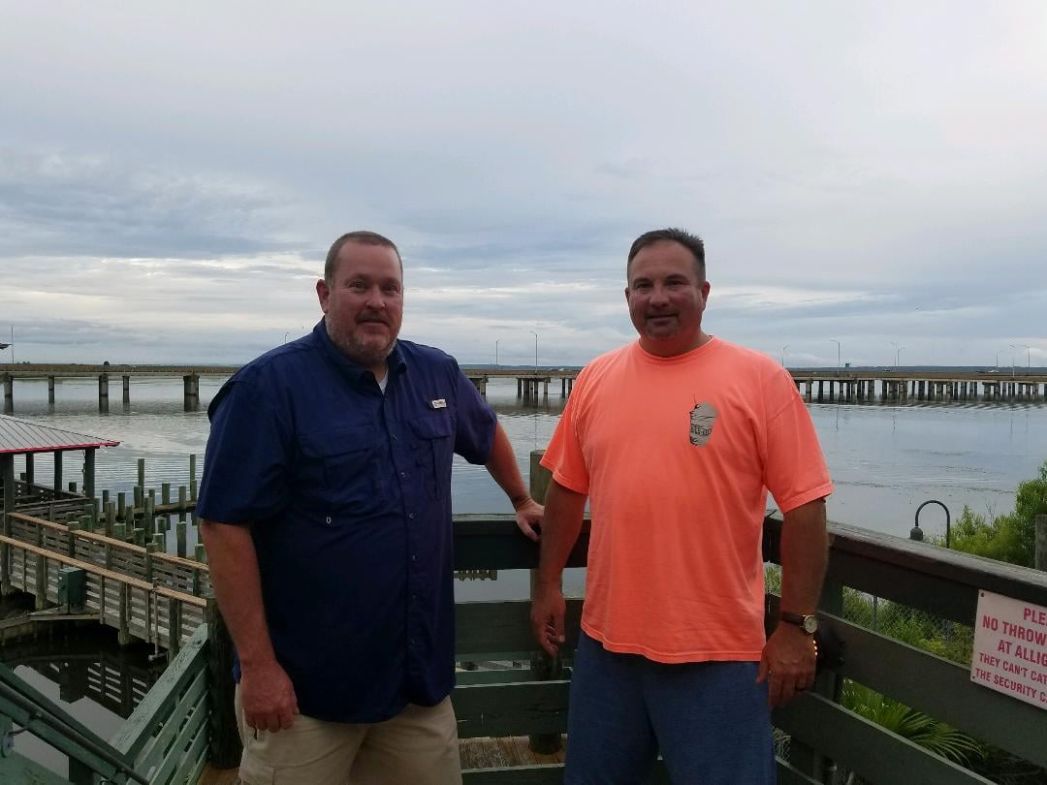 Jon and PBA Staff Representative Gary Cooper when they served on the Alabama Division Board
Riley is five years from retirement and is still committed to his profession and his work for the PBA. He draws inspiration from a quote by Dr. George Washington Carver that drives this commitment. Carver was a prominent black agriculture scientist and inventor in the 20th century whose mother was born a slave. Carver said, "Start where you are, with what you have. Make something of it and never be satisfied."
We are proud to say that Jon Riley exemplifies the quote, and we are proud to have him as a PBA leader.