NCPBA Invited to Investiture of Cheri Beasley as Associate Justice of the North Carolina Supreme Court
Jan 9, 2013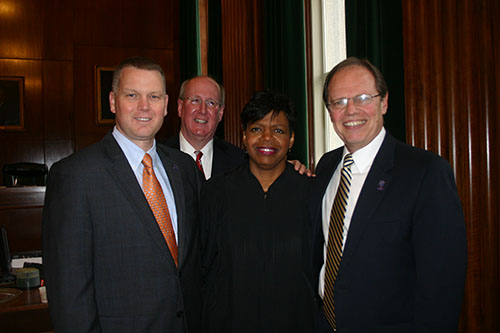 On Thursday January 3, 2013 the North Carolina Police Benevolent Association was part of a select group of distinguished guests that were invited to attend the Investiture of Cheri Beasley as Associate Justice of the North Carolina Supreme Court. The ceremony was held in the Supreme Court and was attended by District and Superior Court Judges, former and current members of the Supreme Court, members of the NC Court of Appeals, Council of State members, members of the General Assembly, and friends and family of Judge Beasley.
Judge Beasley has been a friend of the PBA for many years and was endorsed in her first run for statewide office in 2008 when she was elected to the NC Court of Appeals. Judge Beasley graduated from Douglass College of Rutgers University with a double major in Economics and Political Science in 1988. In December 1991 she received her J.D. from the University of Tennessee College of Law in Knoxville after completing a summer of law studies at Oxford University in England. From 1994 to 1999, Judge Beasley served as an Assistant Public Defender in the Twelfth Judicial District. In 1999 she was appointed as Judge of the District Court, Twelfth District, by Governor James B. Hunt, Jr. and then was elected to the North Carolina Court of Appeals. She is the only African-American woman elected to any statewide office in North Carolina without having first been appointed to the office. Judge Beasley was appointed by Governor Perdue to serve as an Associated Justice of the Supreme Court of North Carolina.
According to NC PBA President Randy Byrd who attended the event, "We are extremely proud of Justice Beasley and her accomplishments through the years. She has the keen intellect and temperament that are perfectly suited for her service on the Supreme Court." Byrd added, "We are looking forward to her time on the Court."