North Carolina Police Benevolent Association Presents Legislative Excellence Award to Legislators
Aug 9, 2021
On Aug. 4, 2021, PBA leaders representing the Capital, Southeastern, Highway Patrol, Winston-Salem Triad, Sandhills, Corrections, Piedmont Triad, Mountain, State Law Enforcement Officers, Crystal Coast, and the Catawba River chapters were at the General Assembly to present the Legislative Excellence award to those legislators who have demonstrated their unwavering support of law enforcement and the values of PBA.
The awards were presented to Sen. Bob Steinburg and Reps. Tim Moore, Dennis Riddell, Donna White, Kristin Baker, Jon Hardister, Donny Lambeth, Erin Pare', Jeff Zenger, Mike Clampitt, Carla Cunningham and Bobby Hanig.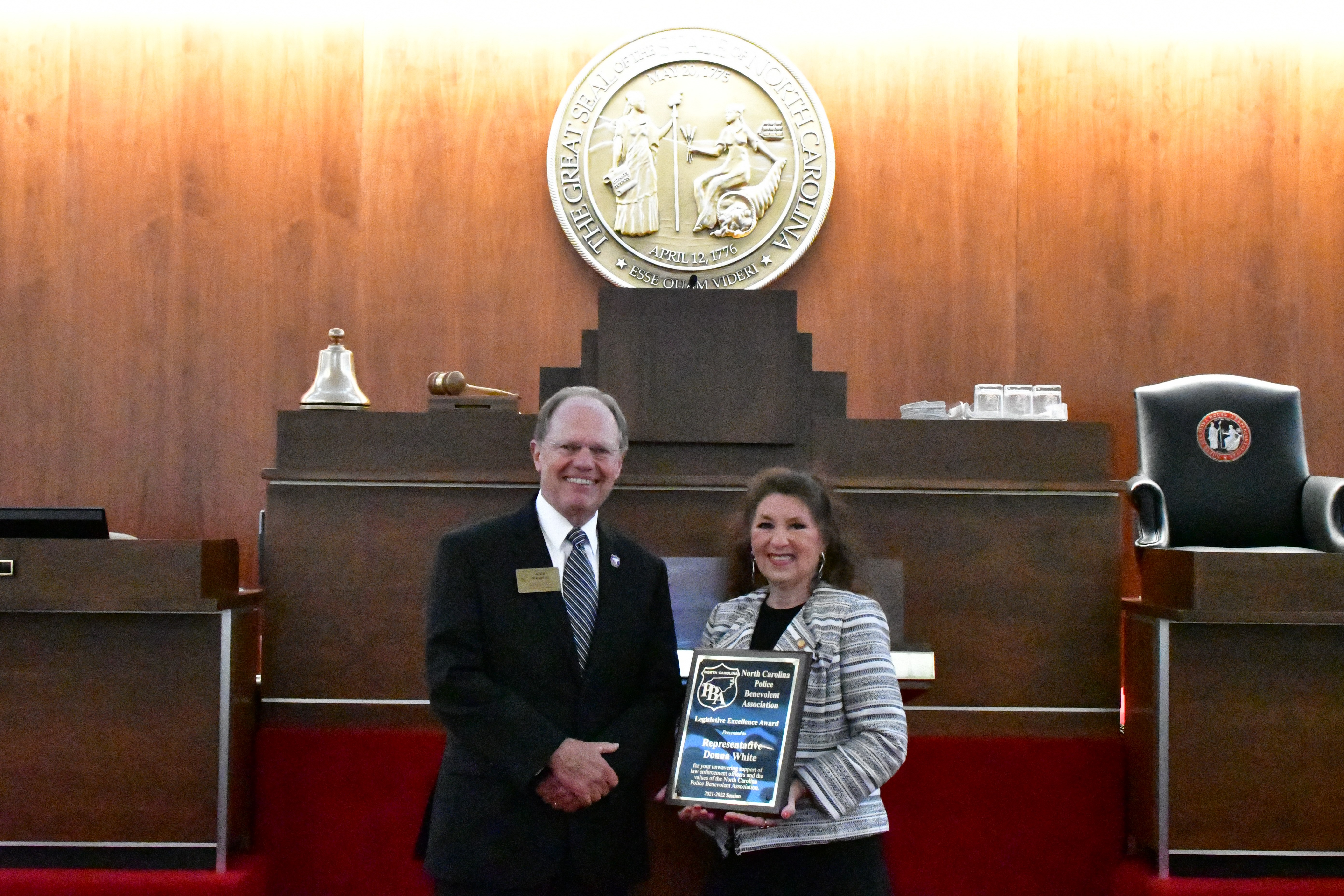 Executive Director John Midgette and Rep. Donna White
These legislators worked tirelessly this session in advocating for legislation to save officers who live with PTSD, protecting officers who report corruption from retaliation, giving the PBA a permanent seat and voice on the Commission that governs its profession, assisting in the recruitment and retention of the best and brightest officers, and reforming prisons.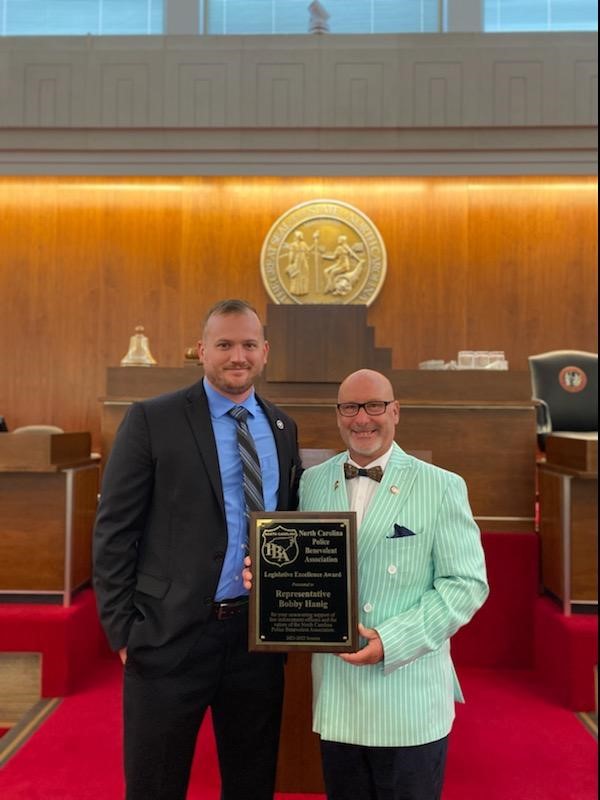 Crystal Coast Chapter President with Rep. Bobby Hanig
The presentations were made in the House and Senate Chambers and here is what the recipients had to say about receiving the award.
"It's an incredible honor because it comes from the men and women of law enforcement who put their lives on the line every day to protect the citizens of this state."
Speaker Tim Moore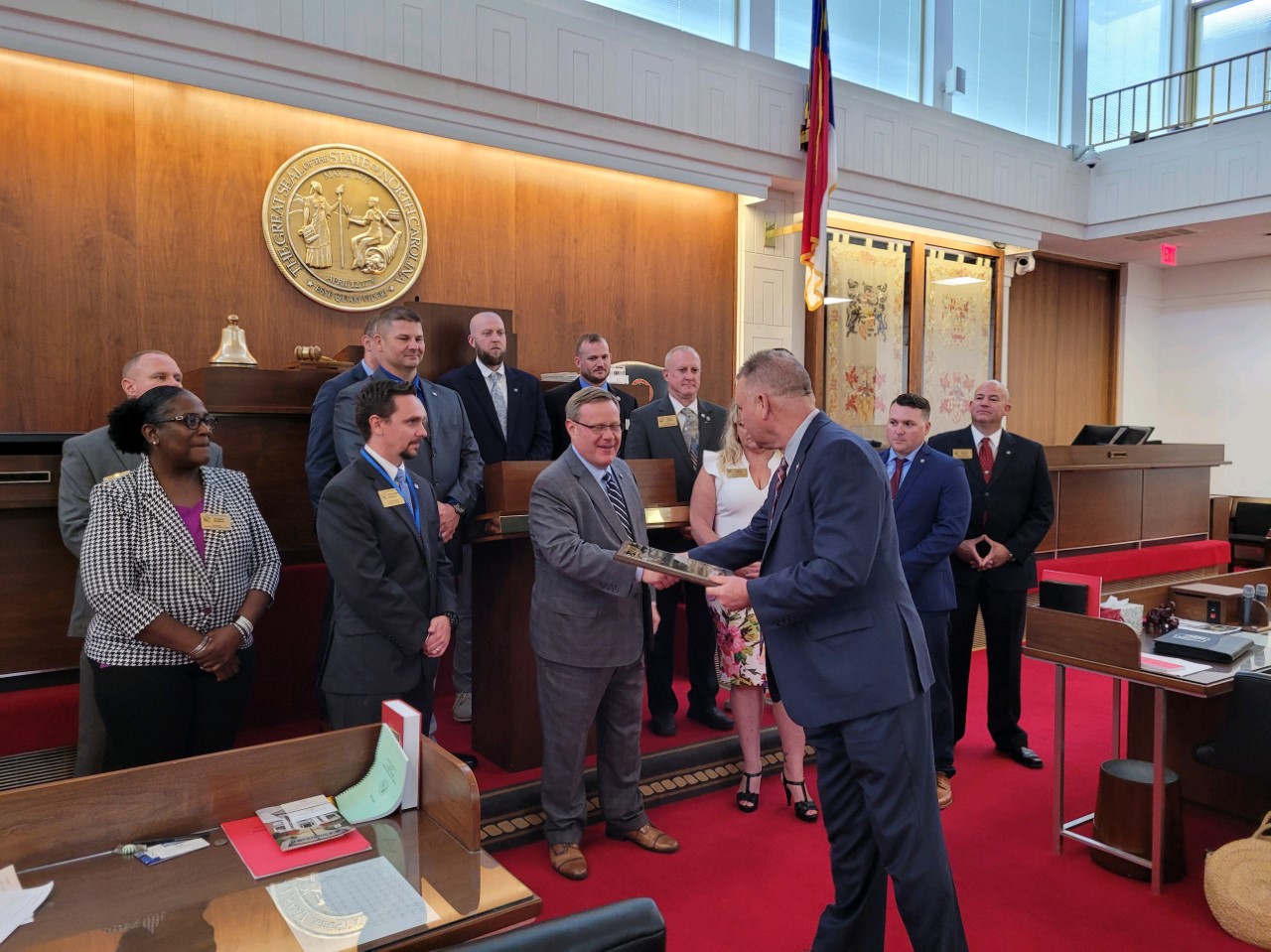 Division President Randy Byrd presenting
award to Speaker Moore
"As a steadfast supporter of law enforcement, it is a distinct honor to receive this award. I will continue to do my best to support the brave men and women who dedicate their careers to the law enforcement profession."
Rep. Jon Hardister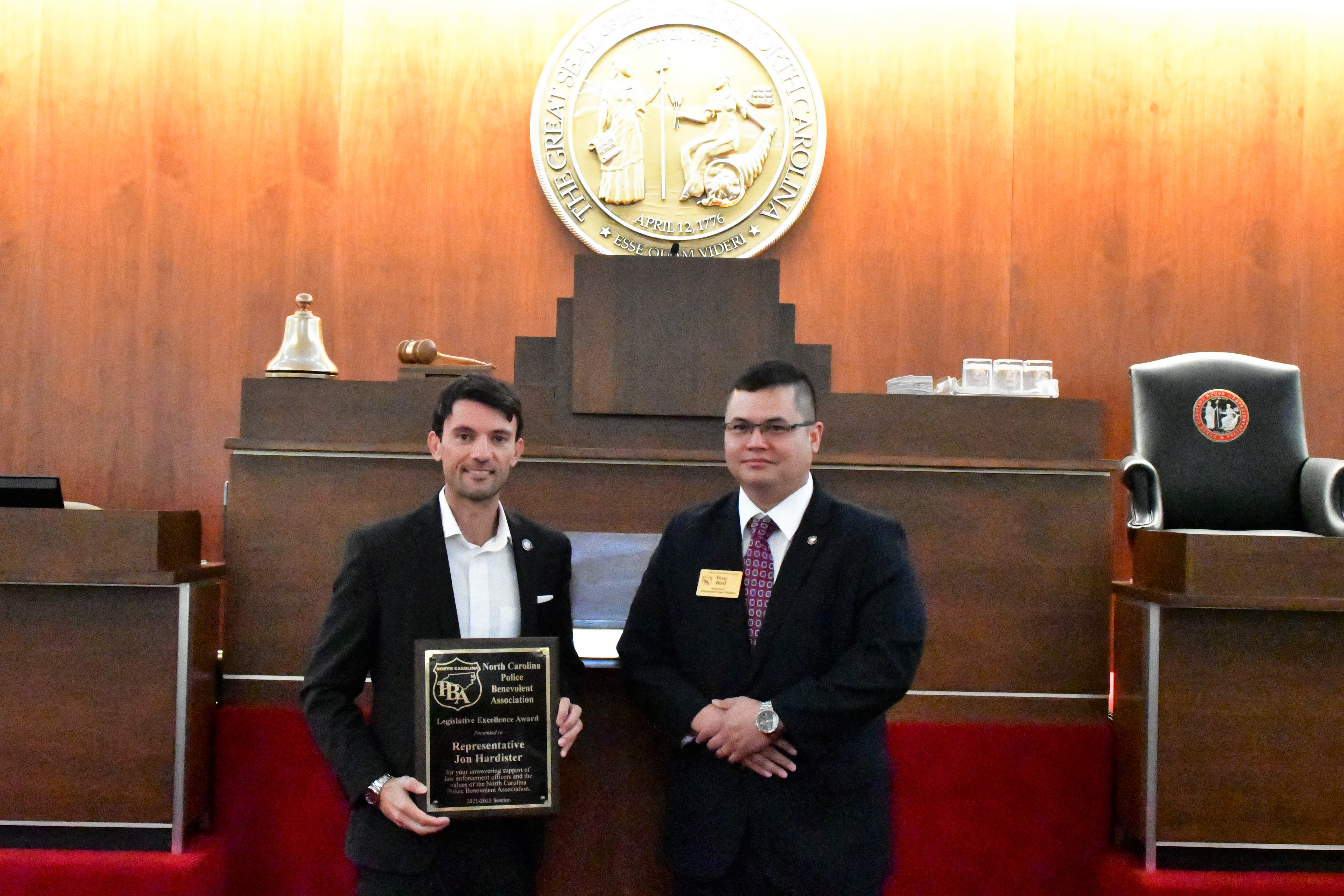 Piedmont Triad Leader Tony Bird with Rep. Jon Hardister
"I am humbled that my attempts to promote public safety in the workplace, where citizens shop, at educational facilities, and in their homes for all citizens in North Carolina, are recognized by those that serve in public service."
Rep. Mike Clampitt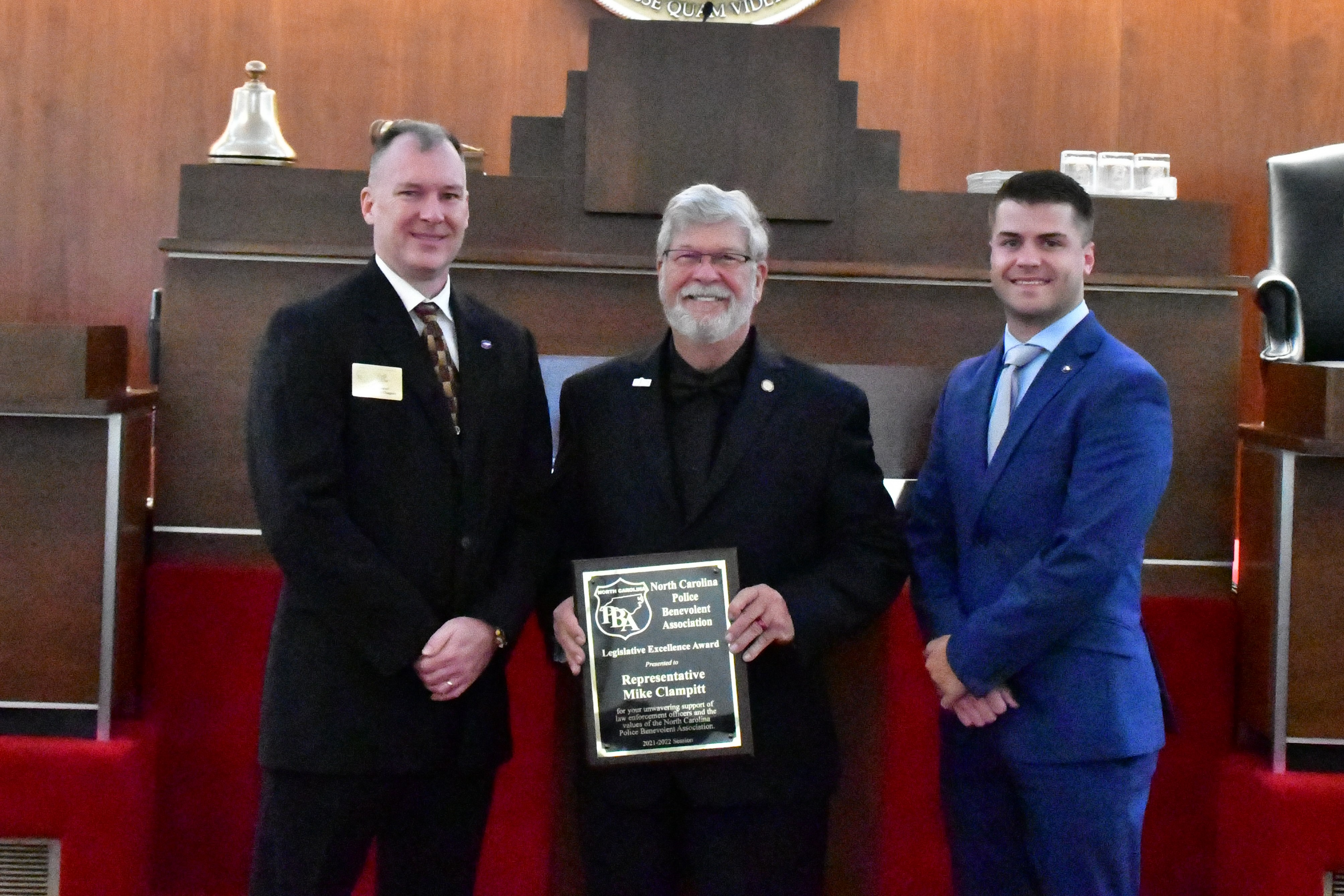 Mtn. Chapter Leaders Rick Tullis and Colby Fox
with Rep. Mike Clampitt
"I am honored and humbled to once again be a recipient of the NC Police Benevolent Association's Legislative Excellence award. The PBA ensures that legislators like me are continually informed and updated on what is needed legislatively to provide law enforcement with the support they are deserving of. When the PBA talks, I listen and will continue to do so."
Sen. Bob Steinburg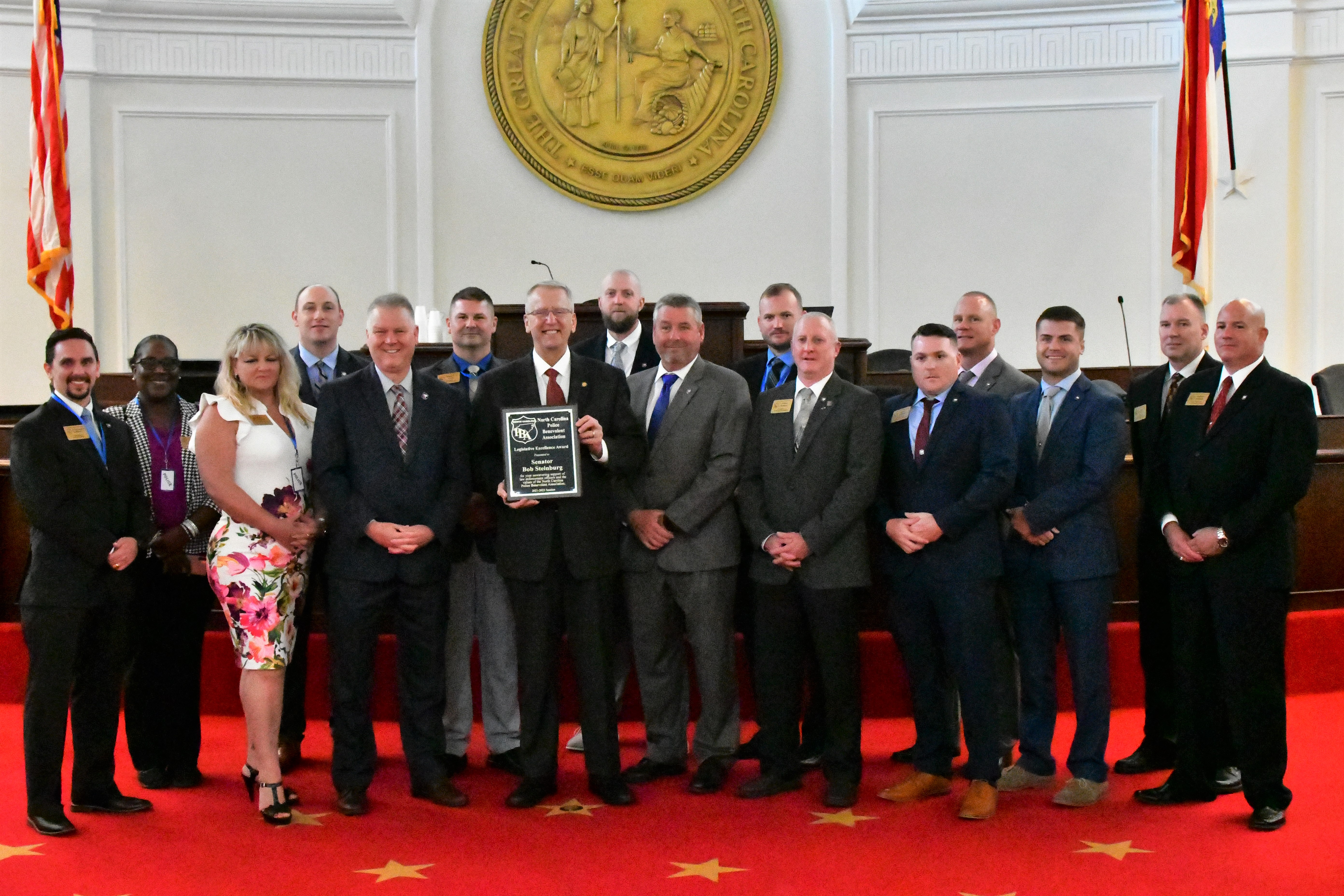 PBA Leaders with Senator Bob Steinburg
"Receiving the PBA Legislative Excellence award is an honor. Each and everyday men and women in law enforcement in North Carolina serve and sacrifice their lives for the citizens of North Carolina. I support the PBA and will continue to work on legislation to ensure officers have the resources and research tools they need to do their job successfully, along with the funding necessary to enhance officer safety and wellness."
Rep. Carla Cunningham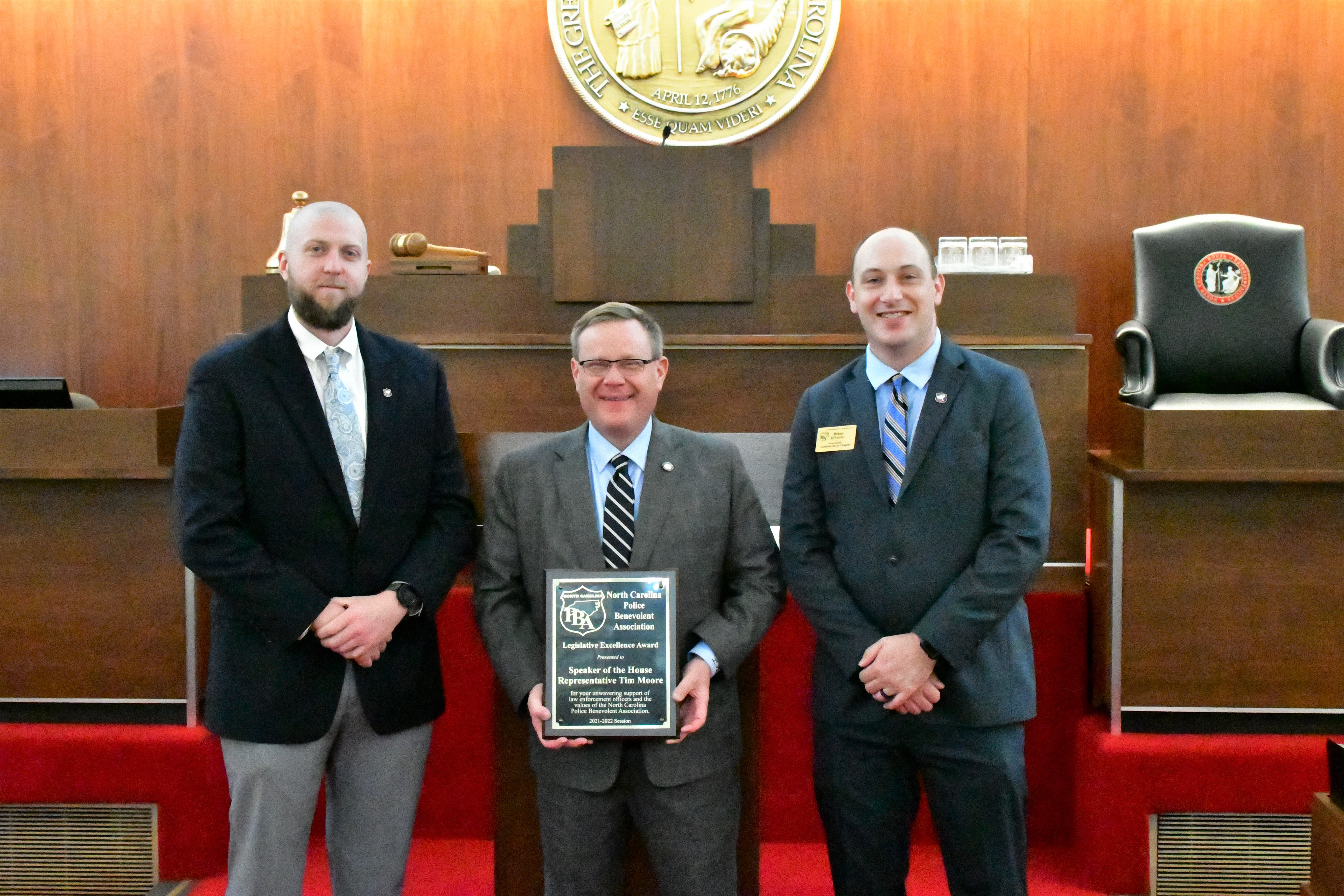 Catawba River Chapter Leaders Brian Diyorio and Jonathan Hayes
with Speaker Tim Moore
"This was my very first award as a legislator and to have it come from the PBA was special. Law enforcement always has our back, and I am glad to be able to have theirs."
Rep. Jeff Zenger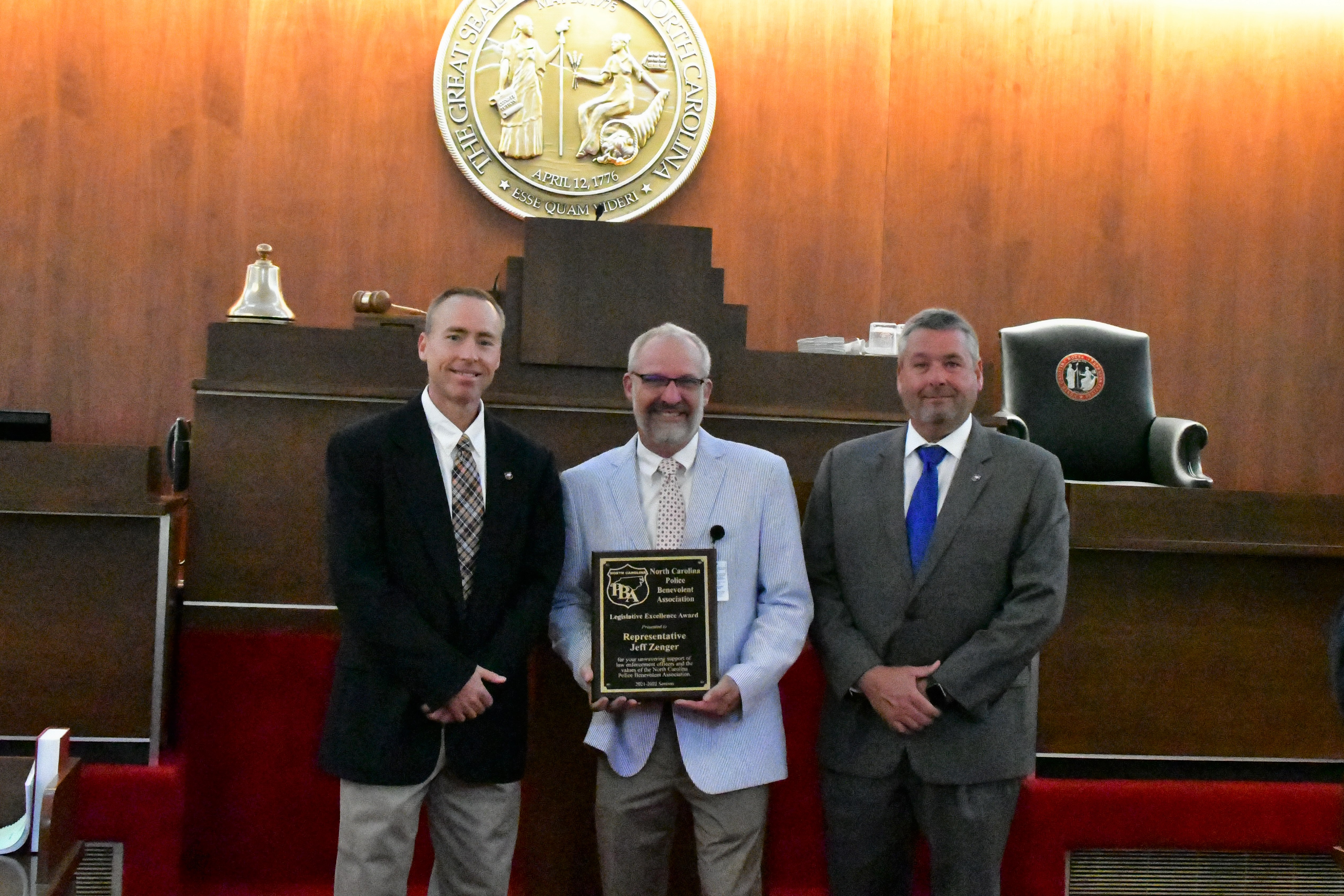 Winston-Salem Triad Leaders David Rose and Jon Arnold
with Rep. Jeff Zenger
"I am humbled to receive this recognition from those who serve and sacrifice so much on behalf of all of us. It is my distinct honor to advocate for North Carolina's men and women in blue."
Rep. Kristin Baker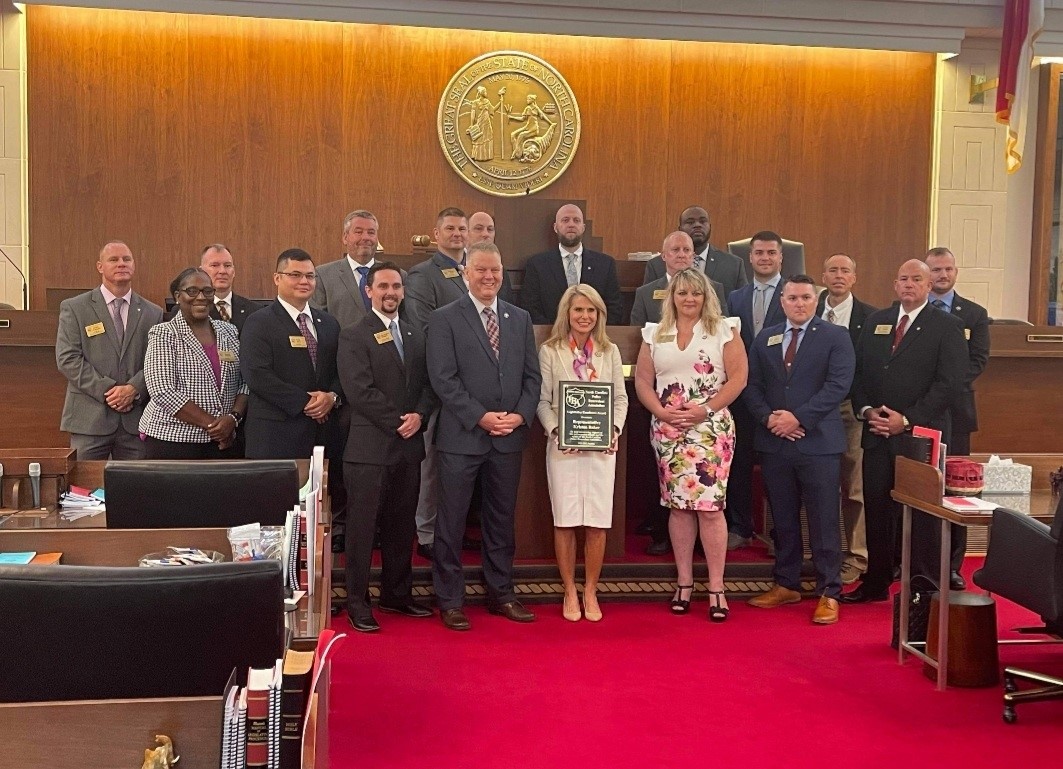 PBA Leaders with Rep. Kristin Baker
"When I received recognition from the PBA with the Legislative Excellence award it signified that your efforts are appreciated by professionals who know what commitments you are making to help improve the lives of the citizens you serve and represent."
Rep. Donny Lambeth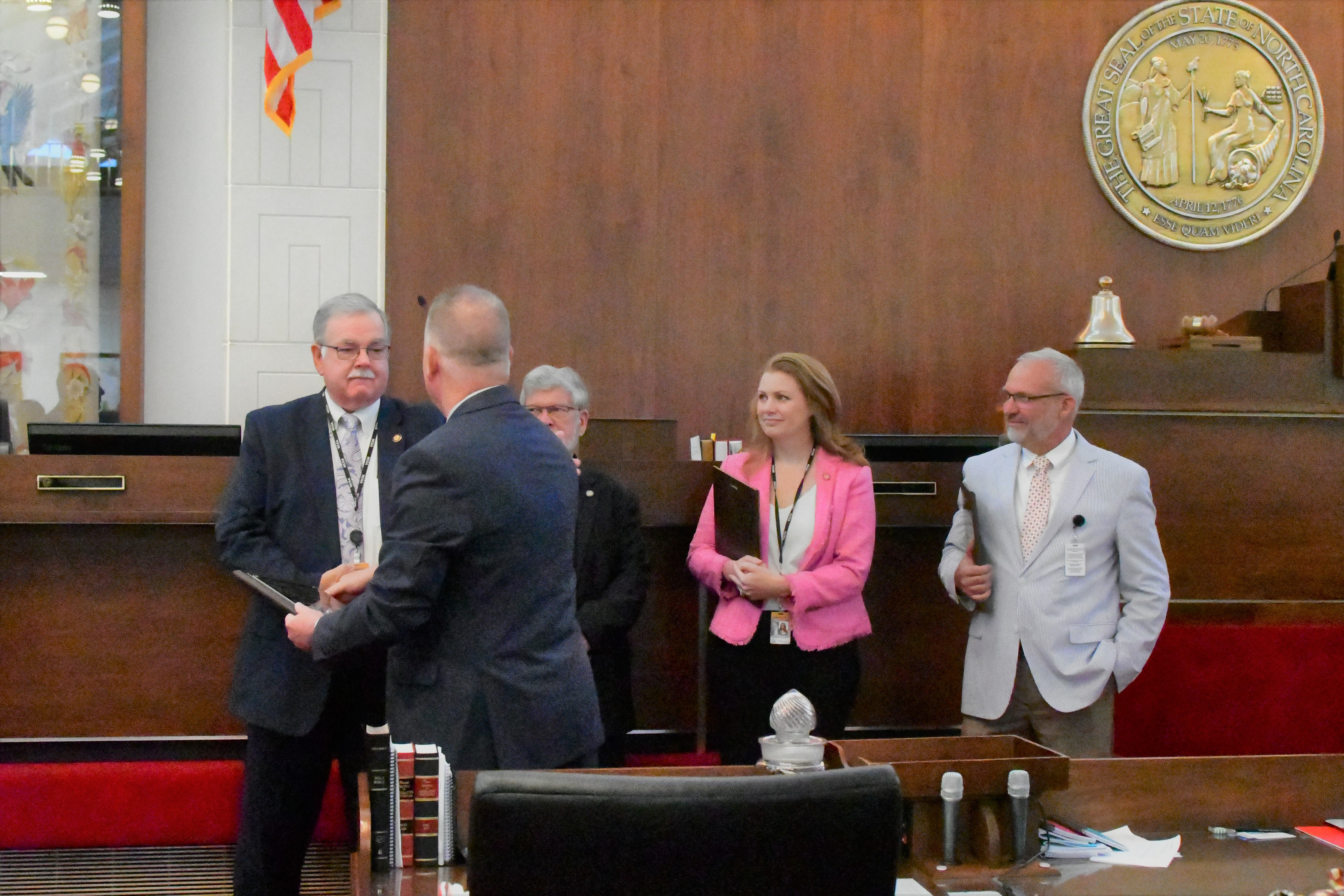 Division President Randy Byrd presenting award
to Rep. Donny Lambeth
"Receiving the Legislative Excellence award is a true honor, and indicative of my commitment to supporting the PBA and NC law enforcement officers, not only from a strong legislative standpoint, but also as a citizen. I have proudly displayed the award in my office and am looking forward to my continued work with the PBA."
Rep. Erin Pare'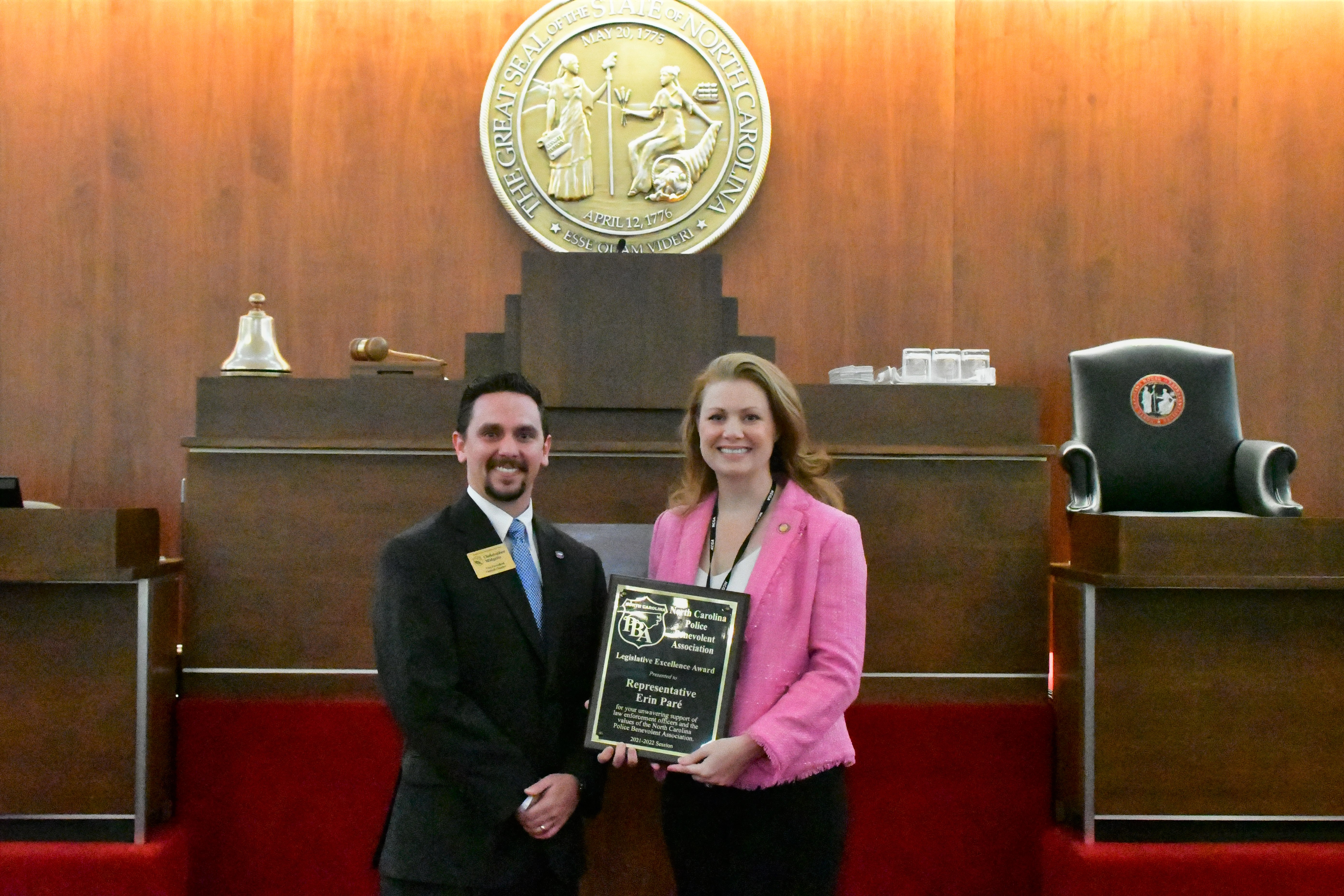 Capital Chapter Vice-President Christopher Midgette
with Rep. Erin Pare'
"I have always been a strong supporter of law enforcement. They have a difficult job and we would be lost without them. To receive the Legislative Excellence award from the PBA, the largest law enforcement association in North Carolina, is something I am very pleased to accept. I am happy to stand with the dedicated men and women of the PBA."
Rep. Dennis Riddell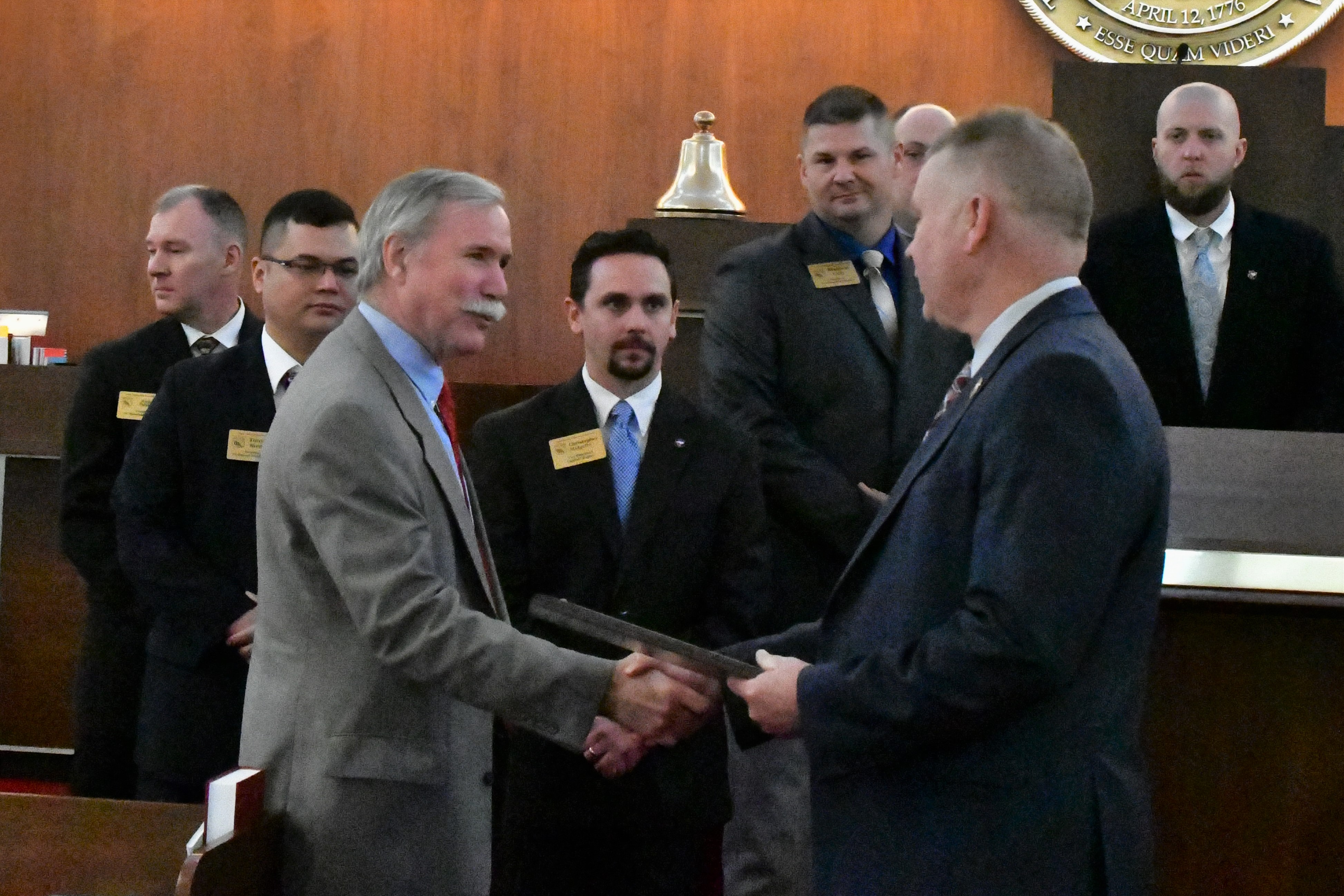 Division President Randy Byrd presenting award
to Rep. Dennis Riddell