North Carolina's Largest Law Enforcement Association Endorses Beth Wood for State Auditor
Aug 17, 2016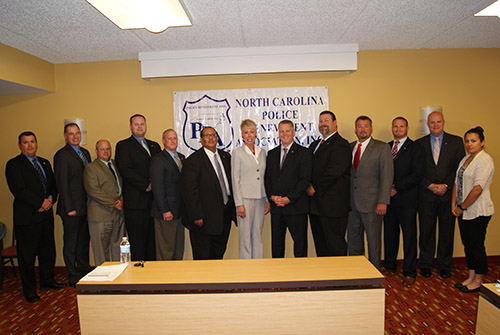 State Auditor Beth Wood with PBA members.
The North Carolina Police Benevolent Association recently held a series of candidate interviews for those candidates seeking election for various offices. During the interview process, Beth Wood demonstrated why her experience and values make her uniquely qualified to represent the citizens of North Carolina.
Beth Wood also demonstrated to the North Carolina PBA that she is committed to making strong, effective law enforcement a priority in her campaign. Wood has nearly 30 years of auditing experience and has served as State Auditor since 2009. That is why the NCPBA is proud to announce their support by endorsing Beth Wood.
Upon notification of her endorsement from the North Carolina PBA, Beth Wood said: "I am honored to have the endorsement of PBA. This validates and recognizes the hard work of our entire staff in The State Auditor's office to run a professional and effective organization."
President of the North Carolina Division Randy Byrd said: "We are proud to endorse Beth Wood in her re-election bid for State Auditor. Beth's work ethic and commitment to do the right thing for the taxpayers of North Carolina is to be admired. Beth is also one of the most efficient and respected leaders in our state. A vote for Beth is a vote for a leader with a proven record of accomplishment."