North Carolina's Largest Law Enforcement Association Endorses Wayne Goodwin for Commissioner of Insurance
Aug 11, 2016
The North Carolina Police Benevolent Association recently held a series of candidate interviews for those candidates seeking election for various offices. During the interview process, Wayne Goodwin demonstrated why his experience and values make him uniquely qualified to represent the citizens of North Carolina.
Insurance Commisioner Wayne Goodwin with PBA members.
Wayne Goodwin also demonstrated to the North Carolina PBA that he is committed to making strong, effective law enforcement a priority in his campaign. Goodwin has worked for many years to fight fraud, resulting in the recovery of $75 million for fraud victims. That is why the NCPBA is proud to announce their support by endorsing Wayne Goodwin.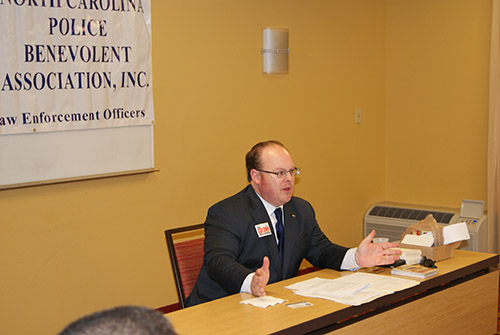 Insurance Commissioner Wayne Goodwin addressing issues presented by the PBA
Upon notification of his endorsement from the North Carolina PBA, Wayne Goodwin said: "As the elected head of a law enforcement agency, it's an honor to have the endorsement of the North Carolina Police Benevolent Association. This endorsement recognizes my successful fight against insurance fraud and over 850 criminal convictions on my watch. The PBA knows what it takes to keep people safe and we share a goal of protecting people across the state."
President of the North Carolina Division Randy Byrd said: "We are proud to endorse Wayne Goodwin in his re-election bid for Insurance Commissioner. Commissioner Goodwin has a proven track record of fighting fraud and protecting the citizens of North Carolina. His efforts have led to the recovery of 75 million dollars for victims during his time in office. Commissioner Goodwin continues to be the right choice for this job and the citizens of North Carolina."