Officer Tara Valli Becomes Virginia's 8K Member
Jan 24, 2022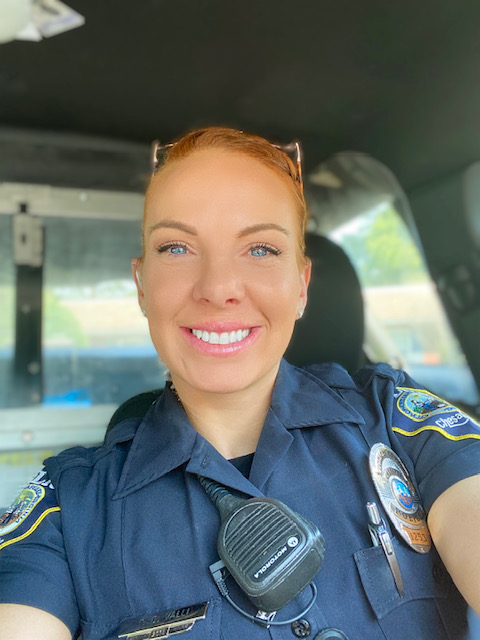 Officer Tara Valli
Chesapeake, Va., police Officer Tara Valli wanted to be in law enforcement since an elementary school presentation on the dangers of drug use.
"When I was in third grade I remember an officer came into our classroom to teach us about drugs," she said. "All the other kids and I were so intrigued with his uniform, his gear and, most of all, his K-9. Ever since then I wanted to be a police officer."
Since joining the police department four years ago, Valli is the one giving hope to young children.
"The best part is when I get to go into the schools and see their eyes light up just like mine did when I was their age," she said. "Maybe one day I will be the reason a child grows up to be a police officer."
Valli, who divorced in 2018 after seven years of marriage, has a 5-year-old daughter.
The road to fulfilling her dream started in her home states of Colorado and Idaho – where she lived on a dairy farm -- and took an interesting route that included the rodeo and the Navy.
In high school, Valli played volleyball and basketball, and ran track.
"When I was in Idaho we had a rodeo team," she said. "Every weekend I would travel with my horse, Buddy, around the state and compete in barrel racing."
After high school, Valli graduated College America-Denver with a four-year degree in healthcare administration. She then joined the Navy and began a military career in law enforcement.
"After college I enlisted in the U.S. Navy as a Master-at-Arms, which is base police, and I really enjoyed my job," she said. "I was stationed in Sigonella, Italy, for two years and then Yokosuka, Japan, for two years. While I was there I had the opportunity to travel all over Italy and Japan and learn their amazing cultures."
At the end of her military career, Valli made the leap into civilian law enforcement.
"Now that I am on the civilian side, I love my job even more," said Valli. "What I love most about it is that no two days are ever the same. You may get the same type of call but they are all different."
In order to protect herself and her daughter, Valli joined the Virginia Police Benevolent Association's Newport News Chapter. Around the time Valli joined, Virginia PBA reached a milestone membership of 8,000.
She saw firsthand how being a member can benefit police officers.
"I became a member because they offer so many benefits for law enforcement," she said. "In today's society, it's good to have a great association behind you in case trouble ever finds you. By being a member of PBA, I feel like I am protected and taken care of in case anything bad happens. I also became a member because a close friend of mine, who is also a police officer, had false accusations made about her. She was a member with PBA and they were able to assist her with legal expenses and resolve the issue. Without them, she may not still be a police officer."
Valli learned how to make sound decisions from her parents. Her father owned a construction and concrete business for 30 years but retired in Kansas where he works as a hunting guide. Her mother has worked as a manager at a Volkswagen dealership for 20 years.
"My biggest influences in my life are my parents," she said. "They taught me at an early age working on the farm what hard work and good work ethic were. They also taught me about how to be great with finances and that hard work always pays off."
No doubt she felt those influences through her Navy and law enforcement careers.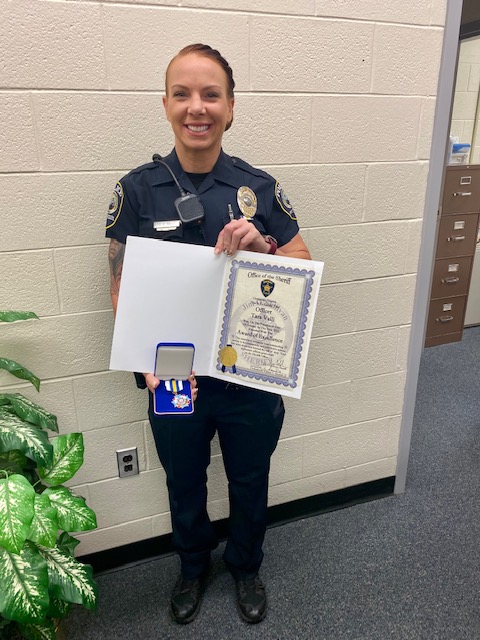 Officer Valli Awarded Medal of Excellence
"While I was in the Navy, I received a Navy Achievement Medal and just recently received a Medal of Excellence award with my department," said Valli. "I am currently a firearms instructor, Control Tactics instructor and CPR instructor. I have completed SWAT school, USART Dive school and CNT school."
In her off-time, Valli keeps up her background of being adventurous.
"When I am not working I try to be outside as much as I can," said Valli. "I love every type of outdoor activity such as camping, hiking, kayaking, horseback riding, etc. If I'm not doing any of those, you will usually find me relaxing on the beach."
Her favorite quote reflects her philosophy on life.
"Live as if you were to die tomorrow. Learn as if you were to live forever." -- Mahatma Ghandi