PBA Leaders Continue to Educate Legislators on Critical Legislation
Nov 17, 2021
By David Rose, Division President
The North Carolina PBA was proud to be at the General Assembly on November 17, 2021, as the budget passed the Senate.
PBA leaders took the opportunity to pass out the latest issue of the Patrolman's Journal to Senators and Lt. Governor Mark Robinson. The Sgt. Mickey Hutchens Act (HB 417) and HB 492 are featured in the magazine. Both bills have passed the House and the PBA wants to continue to educate legislators about the critical need of these two bills.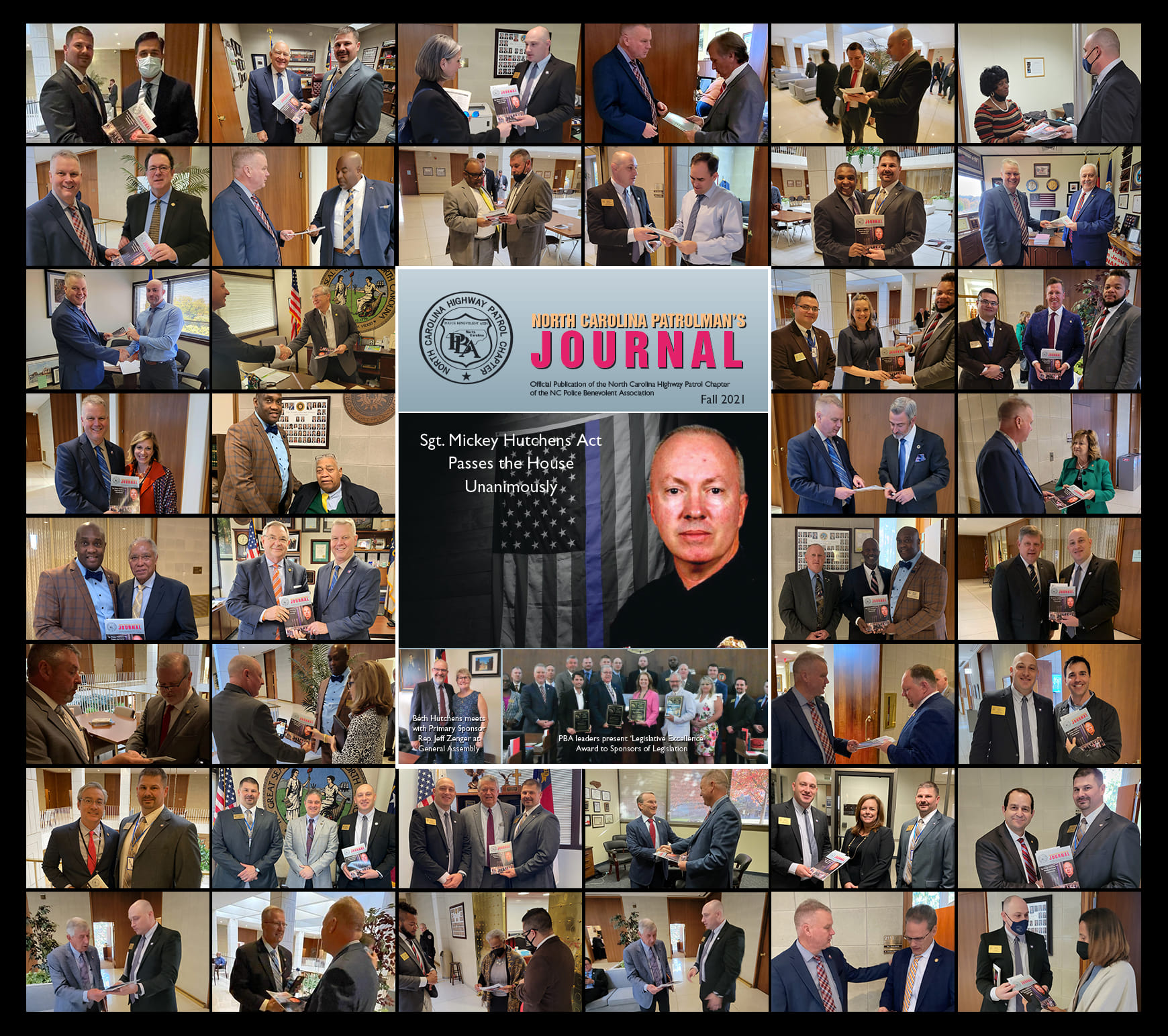 Sgt. Mickey Hutchens, a Winston-Salem officer, responded to a domestic disturbance call at a local restaurant in October of 2009. The ex-husband of an employee had active warrants and fled the scene after officers encountered him behind the restaurant. Sgt. Hutchens was fatally wounded after pursuing the suspect and died days later. House Bill 417 honors his sacrifice by providing current officers the opportunity to purchase up to four years of their service time if they have completed a number of years of service, specialized training, and/or higher education. In a critical time of attracting candidates to a career in law enforcement and keeping qualified officers in the profession, HB 417 also serves as a valuable recruiting and retention tool for North Carolina law enforcement agencies.
House 492 bill makes posttraumatic stress disorder suffered by a first responder without any other injury a compensable occupational disease. PTSD remains a serious issue in North Carolina as officers continue to take their own lives. HB 492 would give officers the opportunity to get the help they need and continue their careers with honor.
These bills are currently awaiting movement in the Senate and are eligible to be heard in the short session, which resumes later this year.