PBA Legislation Clarifies the Law Regarding the Special Separation Allowance
Oct 1, 2010
Local Governments Now Have Clear Direction on the Issue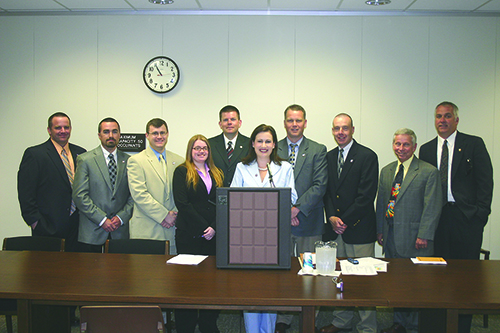 Rep. Tricia Cotham with bill supporters
(L-R) PBA Member Mike Perkins, PBA Member Andrew Chilton PBA Member Justin Guthrie, PBA Member Lori Strickland, PBA Member Jason Tyndal, Rep. Tricia Cotham, NCPBA Legislative Chairperson Randy Byrd, PBA Member Matt Pearson, NC Association of Chiefs of Police Legislative Liasion Tom Younce, and PBA Member Kevin Clodfelter
On July 31, 2009, HB 816 was signed into law by Governor Beverly Perdue. This bill was introduced at the request of the PBA by Rep. Tricia Cotham. Rep. Nelson Dollar, Rep. Marian McLawhorn and Rep. Jennifer Weiss also joined the bill as primary sponsors at the request of the PBA. Senator Floyd McKissick sponsored the companion bill (SB -986) in the Senate. The PBA worked with representatives of the North Carolina Sheriff's Association, the North Carolina Association of Chiefs of Police, the Fraternal Order of Police, and the North Carolina League of Municipalities on the final bill language that became law.
HB 816 is legislation that clarifies the law regarding the special separation allowance provided to law enforcement officers under the local governmental employees' retirement system. For over twenty years in North Carolina, law enforcement officers have been entitled to a monthly separation allowance if they retire after 30 years of service or after reaching the age of fifty-five and having served at least five years. This separation allowance is paid until the retiree reaches the age of sixty-two.
The original statute, passed in 1986, covered state law enforcement officers. These officers were allowed to retire under the statute and work full time for local government without forfeiting the separation allowance. In 1987, additional legislation created a statute that covered local law enforcement officers. The General Assembly also provided two half-cent tax increases to fund the program. The statute gave the governing body of each unit of local government responsibility for making determinations of eligibility and making payments to retired local officers under the same conditions as for retired state law enforcement officers. Over the years, there have been conflicting opinions as to the intent of the statute governing local retired officers. This resulted in local governments interpreting the law differently and making rules related to their retirees. Therefore, determination of eligibility and payment of benefits varied from local government to local government. In some instances, these rules didn't allow retired officers the opportunity to work full time for state government in any capacity. HB 816 now provides direction on this issue. Officers or deputies retiring from local government, who otherwise meet the eligibility requirements, will now be able to work in any full time capacity for state government and receive the separation allowance. In addition, a local government employer may employ retired officers in a public safety position that doesn't require participation in the local governmental employees' retirement system, and doing so shall not forfeit the officer's separation allowance.
The passage of HB 816 offers advantages for both retired officers and local law enforcement agencies. Retired officers will be allowed to continue to serve a vital role in their communities, and local law enforcement agencies will be provided with staffing opportunities at a critical time for law enforcement. The PBA is appreciative of the legislators and organizations who worked with the PBA on this important piece of legislation.