PBA Member Presented With Hometown Heroes Award
Jan 10, 2022
Sergeant Kelly Seagraves of the Concord Police Department recently received the 2021 Hometown Heroes Award from the North Carolina Automobile Dealers Association.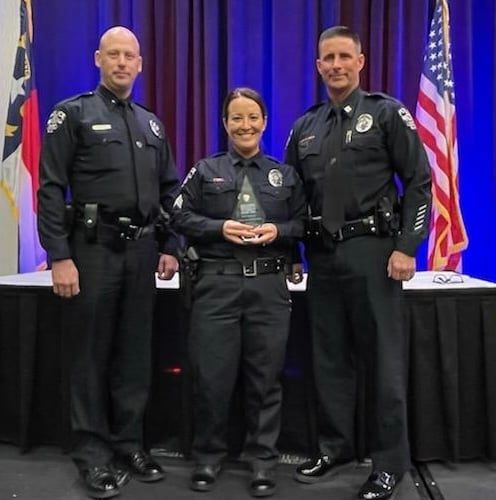 Sergeant Kelly Seagraves with Award
According to the Association's website, the purpose of this program is to recognize First Responders in North Carolina. These heroes of our community work tirelessly to make our backyards a safer place. We want to be able to give back to them as much as they've given us.[1]
Cyndie Mynatt is President of the Ben Mynatt Family of Dealerships in Concord, and they are a member of the Association. Mynatt wanted to submit a nomination for the award and asked Chief Gary Gacek for a recommendation. He recommended Sgt. Seagraves.
In his recommendation he wrote the following:
Sergeant Kelly Seagraves is 15-year veteran of the Concord Police Department. She is a supervisor in the Community Outreach and Education Division where she is the direct supervisor of 12 school resource officers. Kelly also serves as the department's lead hostage negotiator, a certified instructor through the North Carolina Training and Standards Commission, and an integral department liaison in coordinating and organizing community events for the department.
In 2019, I created a volunteer Police Cadet Program. The program is designed to prepare youth ages 14-21 for a future career in public safety by providing knowledge, skills, and practical experiences through education and training delivered by law enforcement professionals. I tasked Sergeant Seagraves with the responsibility of managing the program. The department places a huge emphasis on engaging with our youth, and I could not think of anyone better than Kelly to shepherd this new program.
Sergeant Seagraves invested countless hours to build this program from the ground up. Sergeant Seagraves laid the groundwork for program policy, developed an application and selection process, and aggressively recruited cadet applicants by advertising on social media as well as distributing flyers throughout the city's middle and high schools. At the same time, she recruited and encouraged officers within the department to become volunteer cadet mentors. A total of 21 officers from the rank of police officer to police major stepped up to assist. Sergeant Seagraves also developed a program budget, which was later approved by City Council, and designed and ordered cadet uniforms and equipment.
When the initial application and selection process was complete, a total of 31 cadets ranging from ages 14 to 20 years old were added to the program. The cadets eagerly attended monthly meetings at the police department to learn and practice different police topics and techniques. Cadets were also frequently contacted by their police mentors, who checked in on them and remained active and positive adult role models. Several of the cadets attended voluntary physical fitness workout sessions with mentors at the police department. Then, in March of 2020, the Covid-19 pandemic hit. Soon after, in-person cadet meetings were suspended due to safety concerns. Sergeant Seagraves was determined not to suspend the program, which was still in its infancy. She quickly developed a plan to continue the monthly meetings via live online platforms. Monthly meetings continued via the internet with a new police topic covered each month. She encouraged mentors to continue to stay in contact with their cadets. Although a few cadets have left the program for various reasons, the Concord Police Cadet Program continues to be a vital part of the department's commitment to youth development and community outreach. In fact, one of the original cadets is currently in the police officer hiring process with the department.
Cadets have already volunteered to work several special events alongside police officers; and they will be utilized at the upcoming Christmas Tree Lighting Ceremony and Christmas Parade. Also, the department has just completed a successful new cadet recruiting campaign where several more cadets will be added.
The Cadet Program's success and the positive affect it has had on the City of Concord can be attributed to the commitment, leadership, and determination of Sergeant Kelly Seagraves.
Sergeant Seagraves was born and raised in Hadley, Pennsylvania. Her mom was a stay-home mom, drove a school bus and currently works in a school cafeteria. Her dad is retired from Bessemer Railroad a leading signal maintainer and installer.
She attended Commodore Perry High School and graduated in 2001. In high school, she was an All-American cheerleader who got to travel to London to compete. After high school, she attended the University of North Carolina-Charlotte where she graduated in 2005 with a bachelor's degree in Criminal Justice.
She initially wanted to work as a juvenile probation officer, but after completing a couple of ride-alongs with local police departments, she knew that law enforcement was where she wanted to make a positive difference within the community.
This led her to Rowan Carrabus Community College where she completed basic law enforcement training. Soon, thereafter, she started he career with the Concord Police Department. She has been with the agency for 16 years.
During her career, she has served in Special Investigations, Vice and Narcotics, and now the Community Outreach Division. She also serves as the Vice President of the North Carolina Negotiator Network.
Seagraves has been married to her husband Brent for fourteen years and they have a daughter, Taylor, who is twelve years old. Her husband serves as a fireman with the City of Concord. Softball is an integral part of their lives as Taylor plays on a travel team.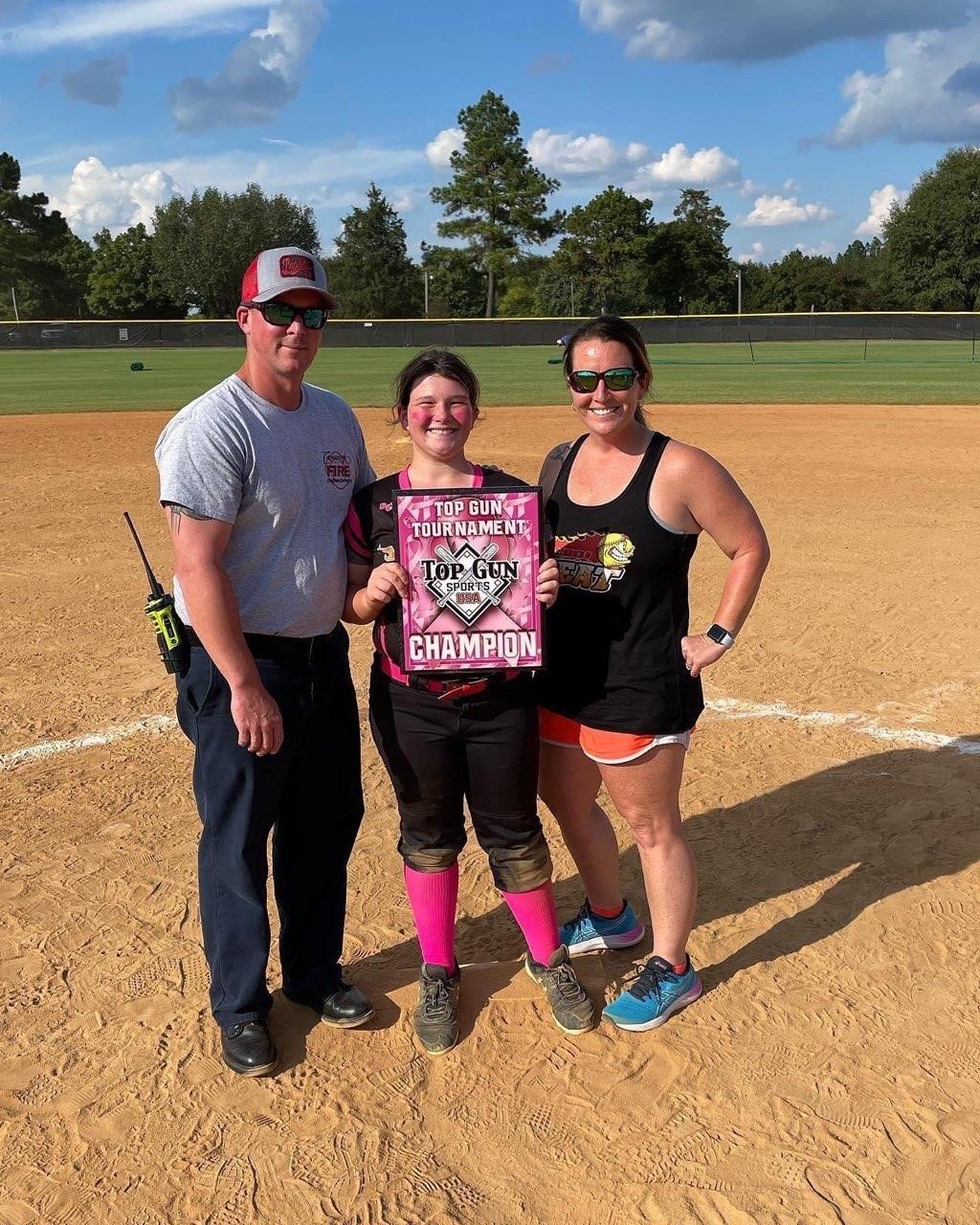 Brent, Taylor and Kelly
We want to congratulate Sergeant Seagrove on this most deserving award. She has a favorite quote that she uses as a guiding principle for her life. John Wesley said, "Do all the good you can, by all the means you can, in all the ways you can, in all the places you can, at all the times you can, to all the people you can, as long as ever you can." Seagraves counts this quote as favorite and a guiding principle for her life. This quote could also be used to describe her commitment to public service and her dedication to the citizens and fellow officers of Concord.
---
[1] Hometown Heroes. (n.d) NCADA. Retrieved March 23, 2022, from https://ncada.com/hometown-heroes.