Police Benevolent Foundation Scholarship Recipient
Dec 7, 2021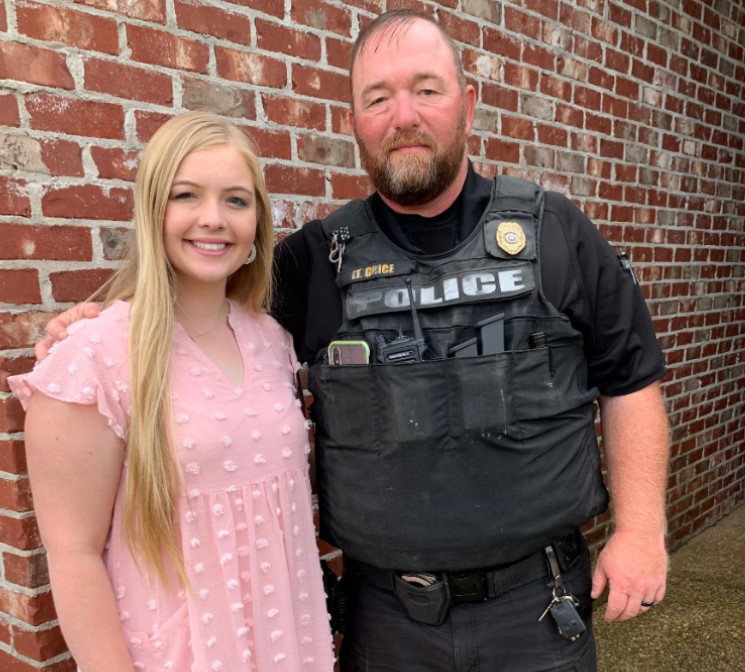 Sarah Grice
It is said that a "servant's heart" beats in the chest of each law enforcement officer.
Pre-med student Sarah Grice long recognized that selfless service in her father, Richland police Lt. Michael H. Grice, and is building her life to imitate that sacrifice. As the child of a law enforcement officer, Grice is eligible to apply for a Police Benevolent Foundation's Mississippi Division scholarship to continue her education past high school, an award she won recently.
Grice said the benefit is an honor.
"It is an honor to be chosen for the PBF scholarship," she said. "My dad has been one of my biggest influences. He has tirelessly devoted himself to law enforcement for the past 21 years. He has made such a huge impact on me, encouraging the importance of serving in the community, helping others in need and the importance of pursing higher education. He is extremely passionate and dedicated, and it is so much more than just a job for him. That is the same passion that I plan to take with me into my career."
Growing up under such a passionate and dedicated father has given Grice the foundation of leadership and resolve she needs to complete her challenging task of becoming a doctor.
"My dad's impact and influence in my life are a huge part of the reason that I have such a strong desire to pursue a degree in medicine, so that I too can work in a career that serves others," she said. "Attending college is costly, but is also an invaluable investment into my future. This scholarship is invaluable to not only me, but my family as well, as it is helping me afford the opportunity to attend a four-year college and pursue a degree, that will allow me to be able to pursue a degree in medicine."
Grice said it is an "honor" to be the daughter of a law enforcement officer because, despite the challenges and adversity that comes with being part of a LEO family, "I have learned that service to my community while supporting others, and living each day to the fullest while continuing to pursue higher education, is incredibly important."
"Earning a college degree will not only allow me to accomplish a major personal goal," she continued, "but it will also help prepare me for a rewarding career similar to that of my dad's. It is an honor to be the daughter of a LEO."