Police Benevolent Foundation Spotlight - High County Chapter President Darin Church
Apr 20, 2022
By Randy Byrd
Foundation and Media Relations
SSPBA
The North Carolina Police Benevolent Association and the Police Benevolent Foundation recently partnered to raise funds for High Country Chapter President Darin Church.
Several years ago, Darin was diagnosed with Juvenile Polyposis Syndrome (JPS). According to an online article by the Cleveland Clinic, JPS is a disorder marked by growths, called polyps, which grow on the lining of the gastrointestinal (GI) tract. These polyps can occur anywhere in the GI tract. In Darin's case, the polyps grew in the stomach. The article also pointed out that with JPS, the word "juvenile" refers to the way the polyps look under the microscope, and not to the age of the people who get the disorder. JPS is estimated to affect anywhere from 1 in 100,000 to 1 in 160,000 people.[1]
Last year, the polyps in Darin's stomach started to grow larger and with more frequency. Darin sought treatment at the Mayo Clinic in Phoenix and his options came down to two choices. He could keep the stomach and continue polyp removal or have the stomach removed all together. Darin chose the latter, and in January of 2022 he chose to have his stomach removed at UNC Hospital in Chapel Hill.
While in the hospital he developed an infection which required emergency surgery. He ended up being hospitalized for nine days. His recovery has been a slow process since his release as he continues to heal and adjust to a new way of eating. He recently returned to work in a light duty capacity, at the Blowing Rock Police Department, where he serves as a Lieutenant.
The PBF was proud to assist Darin with his medical expenses and deliver the raised funds to him. Darin said, "It has meant so much that so many people chose to give to help me and my family as we have navigated this surgery. It has made things a little easier over the last few months." He continued, "The support from the PBA and PBF is something I will never forget."
Darin was born and raised in Deep Gap, North Carolina. His mother, Jan Wellborn, worked as a teacher's assistant at Parkway Elementary School. His father, Hubert Church worked and retired from the North Carolina Department of Transportation.
He attended Watauga High School and graduated in 1996. During high school he was involved with DECA (Distributive Education Clubs of America) and FCA (Fellowship of Christian Athletes). He was also an honor roll student.
After high school, he attended Wilkes Community College and graduated with an Associate's degree in Criminal Justice in 1998. Later that year, he completed his Basic Law Enforcement Training and started his career with the Watauga Medical Center Hospital Police. His career eventually led him to the Blowing Rock Police Department and his current position over Investigations and Support Services. Darin is an FBI Trilogy award winner and has received leadership training through the FBI and North Carolina State University.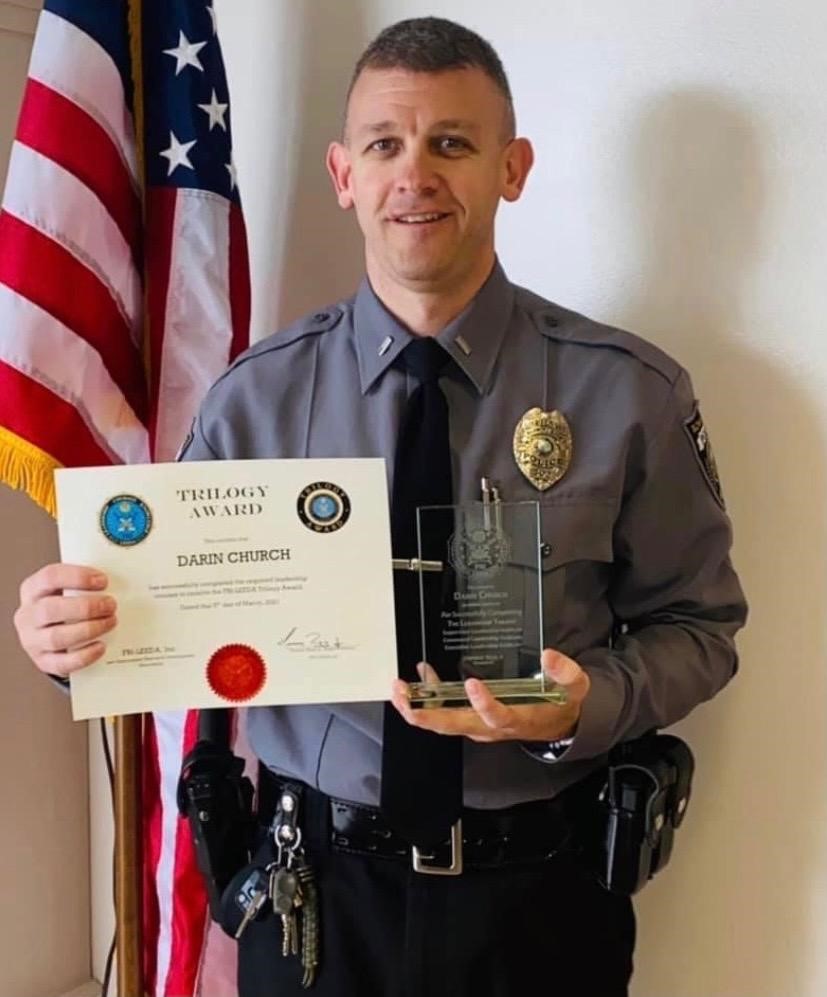 Lt. Church Receiving Trilogy Award
Several years ago, Darin worked to establish a steering committee for High Country Chapter. His work led him to be the first elected president of the Chapter. "I became a PBA member to be a part of a brotherhood and to have the legal coverage, "says Darin. "I wanted to start a Chapter so we could better serve our members in this area", he added.
Darin has a daughter, Samantha, who is 9 years old and wants to follow in her father's footsteps. One of Darin's favorite things to do is travel with his daughter and enjoy experiencing different places in the world with her. He also is a beekeeper and has started his own winery.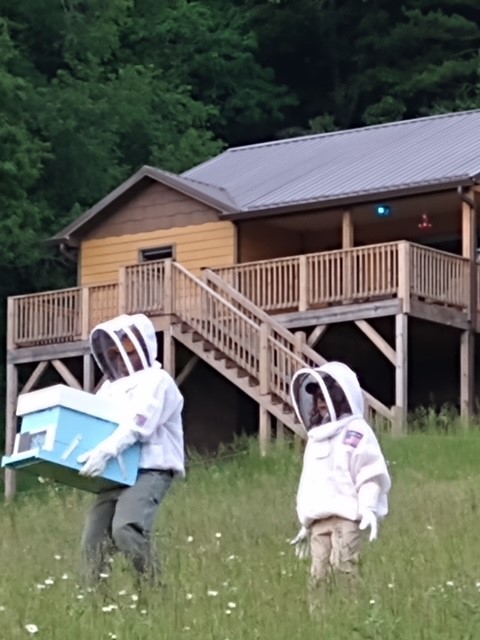 Darin and his daughter Samantha
We are encouraged by Darin's recovery and his determination to return to the profession he loves. His story is truly inspiring, and we are proud to have him as a member and a leader in the PBA.
---
[1] Juvenile polyposis syndrome (JPS): Causes, symptoms & treatment. Cleveland Clinic. (2022) Retrieved March 19, 2022, from https//my.clevelandclinic.org/health/diseases/15221-juvenile-polyposis-syndrome-jps