The Fruits of the Labor: PBA Candidate Screenings
Nov 1, 2006
Time and effort pay large dividends to the Cary Chapter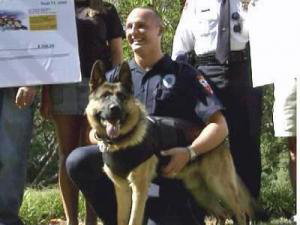 As a direct result of the PBA candidate screenings held in August of 2003, The Town of Cary now has a K-9 program. The screening asked the following question of all the candidates, "The Cary Police Department currently does not have a K-9 program. We currently use other agencies to respond to calls for service in our jurisdiction when a canine is needed. This can lead to delayed response for service which dampens the effectiveness of the K-9. The validity of a K-9 program has been proven repeatedly in the apprehension of suspects and the seizure of illegal narcotics. They also are of significant importance to officer safety and serve as a public relations tool in building relationships with the community. A successful K-9 program will also show considerable savings in time expended, and accuracy of searching when canines are used for building searches. The K-9 program has been presented as a budget item for a number of years without success. During this time the population of Cary has grown as has the number of sworn officers.
"If elected/re-elected would you support the addition of a K-9 program within the Cary Police Dept.?"
PBA endorsed candidates Michael Joyce (At-large), Ernie McAlister (Mayor), and Nels Roseland (District B) answered with a resounding, "YES." These candidates went to bat for this program because our members collectively and professionally presented a genuine need for it through the screening process. Final approval for the program was given in October of 2004. Cary Town Council members Julie Robison, Jack Smith, Jennifer Robinson, and Marla Dorrel made it a unanimous vote. The vote approved the funds to start the program in mid-budget year. Master Officer Jeremy Burgin started a 14-week training program with (K-9) Max in early 2005. The team was working the street by midsummer 2005. During November and December of 2005, he became USPCA certified as patrol dog and was also certified in narcotics.
Active chapter leadership, membership participation, and relationships with elected officials are what makes the PBA political process work. Congratulations Cary Chapter!