VAPBA Division Applicant Awarded Police Benevolent Foundation Scholarship
Feb 16, 2022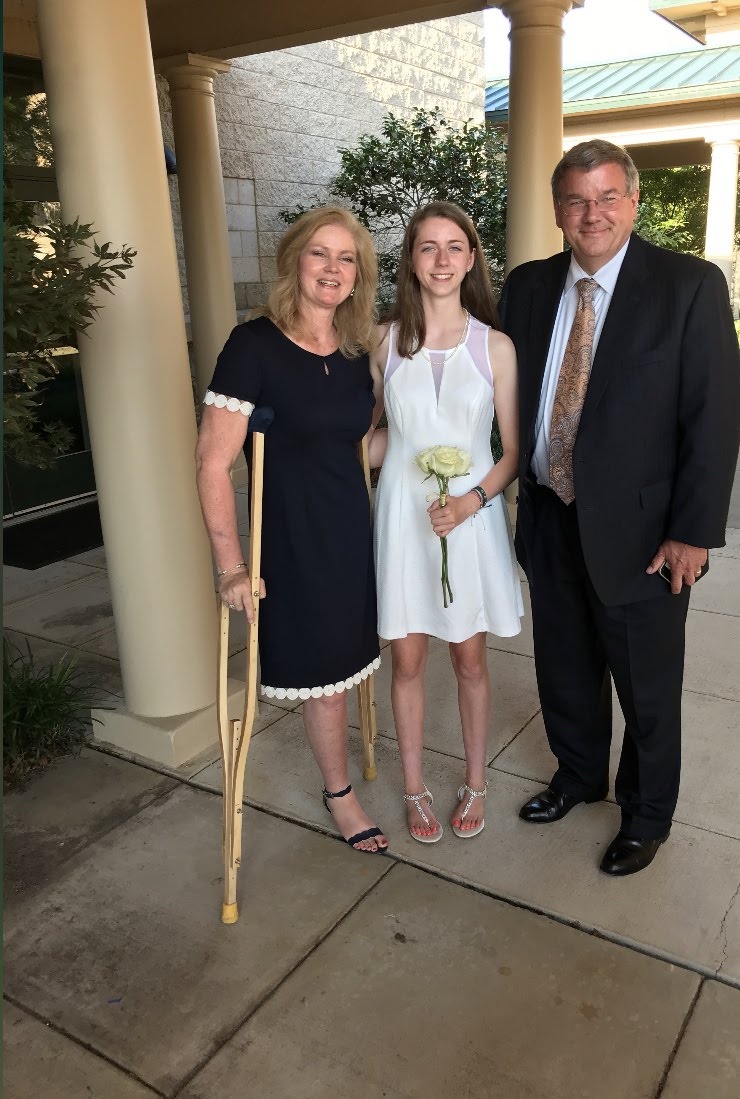 Grace Goodpasture
When Grace Goodpasture needs a positive role model, she need look no farther than her own parents.
The Roanoke College honors student is pursuing degrees in biology and Spanish with a goal toward a career in cardiac rhythm management. Her motivation? Her mother's long-term health challenges.
"My motivation for working in this field is as a result of a very human story that has touched my life profoundly," said Goodpasture. "Simply, my mom is a 41-year childhood cancer survivor who was part of a chemotherapy clinical trial in 1980. At age 15, she was diagnosed with osteosarcoma and given a 2% chance of survival."
At the time, she was an accomplished dancer training for an audition with the New York City Ballet Company's high school program. To save her life, her left leg and hip were amputated and she was given a particularly strong experimental chemotherapy. The treatment, while lifesaving, only caused more health issues for the young woman already struggling with Type I juvenile diabetes.
"Because of faith, grit and skilled physicians, she survived to live an extremely fulfilling and productive life," said Goodpasture. "However, as a result of large quantities of a very toxic drug, she now experiences cardiomyopathy of the left ventricle and was one of the first recipients of a biventricular pacemaker, designed specifically for managing the left ventricle."
Goodpasture's career goal is preventing other children from suffering the same fate as her mother. It helps that she has an affinity for science.
"I want to work to help prevent other children who survive cancer to live to adulthood from experiencing that type of diagnosis and subsequent long-term effects of chemotherapy treatments," she said. "But my desire to work with in cardiac rhythm management is deeper than her diagnosis. I love science, and I truly believe my personal experiences can benefit other patients."
Goodpasture's mother's health issues have precluded her from contributing financially to her college fund. However, Goodpasture's law enforcement father, Tom Goodpasture, not only serves as her role model but also as a conduit to the Police Benevolent Foundation scholarship to help her with expenses. She was thrilled to get the award issued through the Virginia Division.
"Paying for college lies squarely on my shoulders and the SSPBA scholarship has been invaluable," said Goodpasture. "I believe good things happen for those who work hard, and I don't expect to be given anything."
In fact, when she isn't studying, Goodpasture can be found working at one of her many jobs.
"I work as a Resident Assistant for 60 residents in the Honors dorm at Roanoke College, as well as represent the college as a paid Admissions Ambassador giving tours and providing event support for prospective students, as well as work as an athletic assistant to the Roanoke College Athletics Department," she said. "On school breaks, I work as a waitress at The Federal Club in Ashland, Va., and babysit for all ages year-round to save money for college. Thank you so much to the members of the SSPBA for all of your support."
Goodpasture has received the scholarship three years in a row.
"Support from the SSPBA helps me remain at the college of my choice," she said. "I have been a recipient of this scholarship for three years, and your continued support means that I can continue to pursue the education that will best prepare me for the real world."
As far as the role her dad plays in her life, Goodpasture said she is honored that he has devoted his life to law enforcement.
"I think overall being the daughter of a police officer has had an extremely positive impact on my childhood," she said. "Some key skills in life were taught to me at a young age, such as social awareness, levelheadedness in possibly stressful situations, and how to keep my friends and myself as safe as possible. I do feel honored to be the daughter of a police officer.
"I am proud of what my dad does, and I am proud of the sacrifices he makes each day," Goodpasture continued. "He cares about others so much that he has had to put himself in sometimes dangerous situations in order to keep the community safe."