2nd Annual "Rock 4 the Cops" Benefit Concert Announced - An Evening With Scotty McCreery and Cassadee Pope
Dec 1, 2015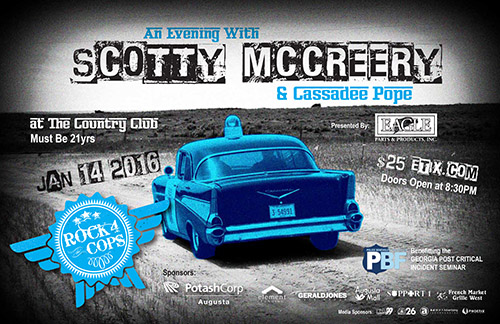 The highly successful "Rock 4 the Cops" benefit concert is set to return to the Country Club in Augusta, Ga. on January 14, 2016. The concert will feature American Idol winner, Scotty McCreery, and The Voice winner, Cassadee Pope. The benefit concert will be presented by Eagle Parts & Products and New Country KICKS 99. The event is sure to be a great night of music, fun and giving back to a worthy cause.
Proceeds from "Rock 4 the Cops" will benefit the Georgia Post Critical Incident Seminar (PCIS) through the Police Benevolent Foundation. The Georgia Post Critical Incident Seminar is vital to the law enforcement community. Law enforcement officers are exposed to high stress on a daily basis, but from time to time encounter extraordinarily traumatic situations. PCIS has literally meant the difference between staying on the job and leaving law enforcement due to unresolved effects of critical incident stress. One hundred percent of the proceeds from this benefit concert will fund the Georgia Post Critical Incident Seminar that will provide officers with education on trauma, patterns of resolution, and field-tested coping strategies to promote recovery and resilience.
The concert will take place on Thursday, January 14, 2016, at the County Club Dance Hall and Saloon in Augusta, Ga. Doors will open at 8:30pm, and general admission tickets are available for $25. All attendees must be 21 or older.
There are a limited number of VIP tickets available for $100 each. For VIP attendees, doors will open at 7:00pm and a full open bar and hors d'ouevres will be available.
For more information on the event, or become a sponsor, please contact CSRA Chapter President Patrick Cullinan by email at

pcullinan@sspba.org

.