PBAGA Division Applicant Awarded Police Benevolent Foundation Scholarship
Feb 24, 2022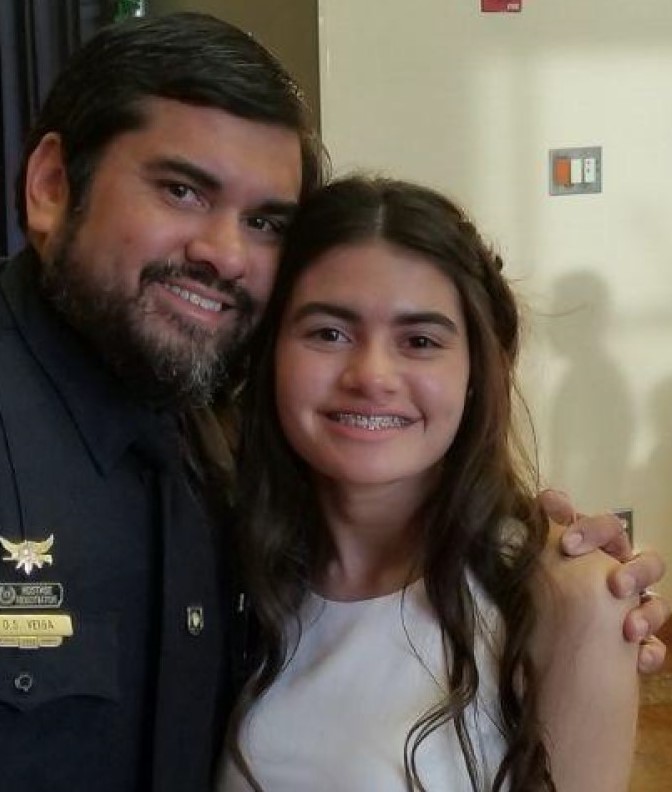 Adara Veiga
Adara Veiga is well on her way to fulfilling her dream career as a pediatric oncologist.
Winning a scholarship from the Police Benevolent Foundation's Georgia Division is helping to pave that path.
"As a nursing student, I've got a long way to go in school," she said. "This scholarship helps me more than I can explain in paying tuition and being more relaxed about my financial situation in school."
Veiga became eligible for the scholarship because her father, Daniel Veiga, is a law enforcement officer and member of Southern States Police Benevolent Association. He works for Cartersville Police Department. He is also her hero.
"Everyone around me trusts my dad, and I always grew up with my dad playing the part of dad and mom," said Veiga. "He was my protector, best friend and hero, and he always will be. I will always be honored to be the child of someone who is willing to put his life on the line to protect me and anyone he comes across."
In fact, her favorite photo of her dad is one taken of the two of them at her high school prom.
"My dad was cheering the loudest when I walked through the crowd of people watching the seniors at my high school prom," she said.
As a hard-working high school student intent on pursuing a challenging educational course, Veiga said she knew winning a PBF scholarship would ease some of the expected pressure.
"I have always pushed myself without end to make good grades and keep in good contact with professors and teachers," she said. "This scholarship was my saving grace this year, it will help me pay for tuition this semester as well as next semester! As a full-time college student who works 40+ hours a week, this scholarship helps me find hope in working hard and getting noticed for doing so."
Those plans include earning a bachelor's degree in nursing from Jacksonville State University, working as a pediatric oncology nurse – ideally at Scottish Rite Children's Hospital, earning a master's degree and doctorate and becoming a pediatric oncologist.
Her career choice differs from her father's but her childhood has instilled in her a lifelong respect for law enforcement officers.
"As a kid, I normalized riding 'shotgun' in my dad's police car," said Veiga. "My brother and I always had to be up about two hours earlier than any other kids we knew because my dad had to get to work pretty early. Experiencing this made me realize how hard my dad works, it made me more appreciative at such a young age. This respect and appreciation have carried with me throughout my life."