Raleigh Chapter member John Matthew "Matt" Midgette awarded the Raleigh Police Department's Distinguished Service Medal.
May 22, 2015
The Raleigh Police Department has awarded its

Distinguished

Service Medal for Bravery to John Matthew "Matt" Midgette.
Midgette, an officer since April 2010, was honored on May 21, 2015 with a ceremony for his bravery. Matt was a first responder to an apartment fire, subsequently saving 10 lives.
The ceremony was held at the PNC Arena. The 8th Annual Department Awards Ceremony was started by former Raleigh Police Chief Harry Dolan, who was a member of the original Raleigh PBA local chapter in 1986.
The following is an excerpt from the actual presentation to Matt and other officers.
"On March 23, 2014, a fire call came in to dispatch to 611 Peyton St.
A further update from communications revealed that residents were jumping from their apartments to escape the flames.
Officer

Midgette was first to arrive at the scene and noticed that flames were coming from the upper part of the building. He then made entry.
Several minutes later other officers arrived and entered the building to assist Officer Midgette in clearing the second and third floors.
With the assistance of a ladder obtained from a civilian, the officers were able to make a makeshift escape route for five stranded tenants that were found trapped on the third floor. After the building was cleared the officers were able to safely exit the building. A total of 10 tenants were transported to Wake Medical Center with various injuries including smoke inhalation.
These officers distinguishing themselves by an act of bravery at the risk to their own personal safety performed above and beyond the call of duty."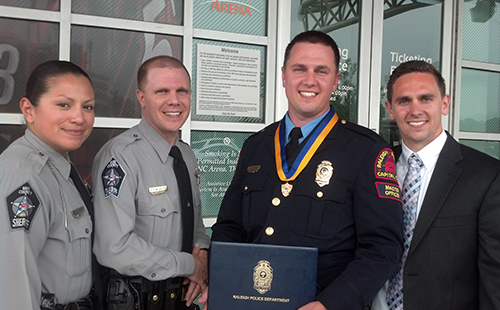 Left to Right - Allison Midgette, Adam Midgette, John Matthew "Matt" Midgette and Christopher Midgette