The Low Country Chapter of the South Carolina PBA endorses Brandon Cox for City Council
Mar 22, 2016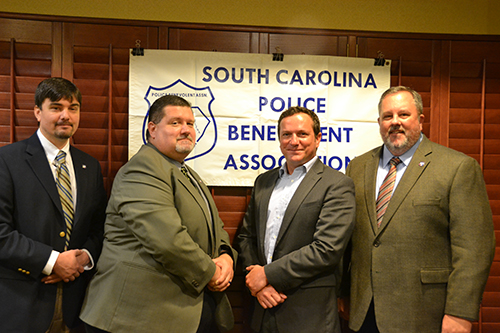 L-R: Low Country Chapter Sr. Vice President Micah Fogle,
Secretary Sean McWilliams, Goose Creek Council Candidate Brandon Cox
and Low Country Chapter President David Soderberg.
On March 19th, the Low Country Chapter of the South Carolina Police Benevolent Association held a political screening for c
andidates running for Goos
e Creek City Council. During the screening process, Brandon Cox demonstrated why his experience and values make him uniquely qualified to represent the voters of Goose Creek. He also demonstrated that he is committed to making strong, effective law enforcement and the safety of the community a priority in his campaign. That is why the Low Country Chapter of the South Carolina PBA is proud to announce their support by endorsing Brandon Cox for Goose Creek City Council.
"Brandon Cox is a proud supporter of the men and women of our law enforcement community. His knowledge of critical issues regarding those protecting our community makes him the perfect choice for our endorsement. We are proud to stand with Brandon and ask that the voters of Goose Creek do the same," said Low Country Chapter President Dave Soderberg.