Cary Chapter Endorses Candidates for Cary Town Council
Sep 26, 2013
The Cary Chapter of the North Carolina Police Benevolent Association recently hosted candidate interviews for those seeking election/re-election to the Cary Town Council. On September 9, 2013, candidates for District A and District CC met with a screening committee to discuss issues of vital importance to Cary members and law enforcement.
These questions involved asking the candidates their position on numerous issues to include their willingness to meet and confer with the PBA; their stance on the League of Municipalities; due process for municipal law enforcement officers; and protection of officers from retaliation for reporting corruption.
Based on the screening committee's recommendation the Cary chapter Board of Directors voted to endorse the following candidates in the October 8th election.
District A – Jennifer Robinson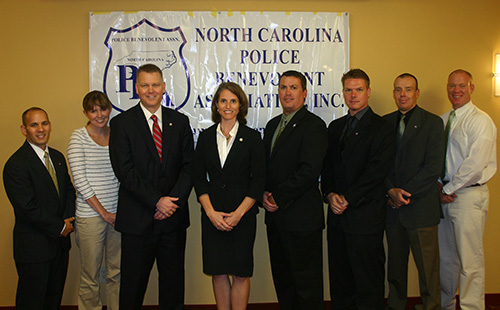 District A Representative Jennifer Robinson with Cary chapter members
(L-R)Cary Chapter member Alex Gazaway, Chapter Secretary Courtney Wellford,
Chapter President Randy Byrd, Jennifer Robinson, Chapter Vice-President John Glascock,
Board Member Bill Brownell, Cary chapter member Matt Pearson, and Board member Josh Marks
District C – Jack Smith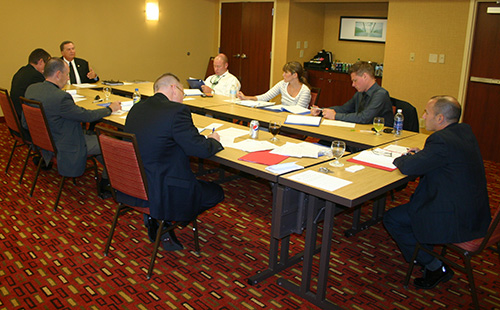 District C Representative Jack Smith speaks to Cary members
In 2003, Cary members first became involved in the PBA political process as part of the Raleigh-Wake Chapter. Candidates running for three seats including Mayor were interviewed about key issues including the addition of a K-9 program within the Cary Police department. This successful screening and endorsement process led to a relationship with the winning candidates and produced the Cary Police Department's first K-9. In 2005, Cary members formed their own chapter and have screened candidates in 2005, 2007, 2009, 2011, and this year respectively. These screenings along with continued dialogue with elected officials have led to a shared leave program, health insurance benefits for officers that are grievously injured in the line of duty and have to medically retire, and preservation of the separation allowance for officers who want to work in retirement.
According to Cary chapter and NC Division President Randy Byrd, "The PBA interview and endorsement process presents an incredible opportunity for our members to effect change and make a huge difference in their working conditions and lives. The Cary chapter is but one example of how the PBA playbook can work."