Chief Justice Mark Martin Announces Full Membership of Study Commission
Sep 15, 2015
Chief Justice Mark Martin has announced the full membership of the newly created North Carolina Commission on the Administration of Law and Justice and has appointed North Carolina Police Benevolent Association President Randy Byrd to the Commission.
The commission membership is comprised of key stakeholders within the justice system as well as leaders in the private and public sectors. The multidisciplinary commission will undertake a comprehensive evaluation of our state's justice system and make recommendations for strengthening our courts within the existing administrative framework.
"These respected and innovative leaders will provide the direction necessary in this era of change, ensuring that the justice system works for all," Chief Justice Martin said. "They bring with them decades of experience in the state and federal judiciaries, business and nonprofit communities, legal education, and private practice."
Chief Justice Martin previously announced the appointment of the commission co-chairs, who will focus on five areas of inquiry: civil justice, criminal investigation and adjudication, legal professionalism, public trust and confidence, and technology. Chief Justice Martin assigned Byrd to the criminal investigation and adjudication committee.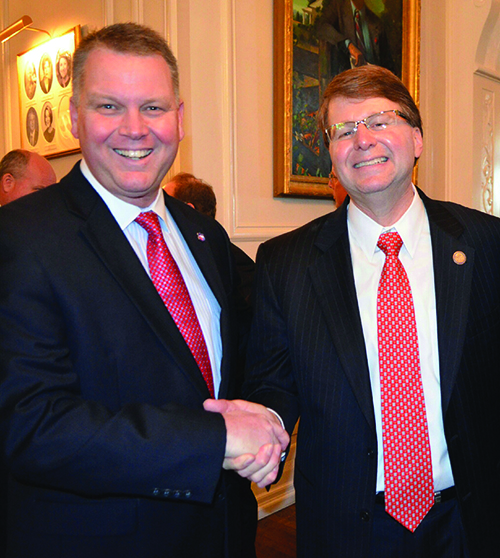 NCPBA Division President Randy Byrd and Chief Justice Martin
Chief Justice Martin has also invited participation from the General Assembly. The commission's work will provide a basis for discussion with the General Assembly to help ensure North Carolina's Judicial Branch meets the needs of our citizens and their expectations for a modern court system. The commission will finalize its findings and recommendations in a series of reports that will be presented to the Chief Justice and made available to the public in early 2017.
In receiving his appointment, President Byrd had this to say, "I'm truly honored to be named to this important Commission by Chief Justice Mark Martin. Chief Justice Martin is a visionary and truly exemplifies what public service is all about.
Biography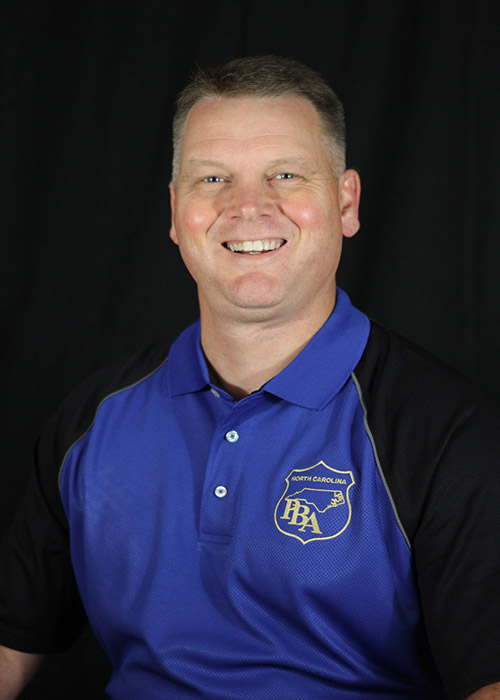 Randy Byrd is 49 years old and was born in Rocky Mt., NC. He was raised in the mountain community of Burnsville in Yancey County, North Carolina. Yancey County is home to Mt. Mitchell, the highest peak east of the Mississippi. Randy's parents James and Judy are both retired public school educators with 68 years of service between them. His dad retired as the librarian of the local high school and his mother retired as a fourth grade teacher at a local elementary school. After high school Randy, received an Associate's Degree in Law Enforcement Technology (1989) and his Basic Law Enforcement certificate (1991) from Asheville-Buncombe Technical Community College in Asheville, NC.
In July of 1992, Randy accepted a position as a Police Officer with the Cary Police Department. During his 23 years of service with the Cary Police Department he has served as a Patrol Officer, Detective, Sergeant in Field Operations, Sergeant of IMPACT, and Sergeant in Investigations. He currently is assigned to Field Operations as a Patrol Supervisor.
Randy has over 2400 hours of specialized training which include completion of the Criminal Investigations Certificate Program through the NC Justice Academy (1999) and the Law Enforcement Management Institute through Coastal Plains Law Enforcement Training Institute (2002).
Randy has been a certified law enforcement instructor since July of 1996 and a certified physical fitness instructor since July of 2003. In this role, he has taught in numerous specialty areas of instruction. He was one of the first instructors in North Carolina to attend the 'Train the Trainer' course for Community Policing. This training allowed him to teach for a number of years through the Carolina Institute of Community Policing. Randy was able to travel throughout North and South Carolina teaching community policing and applied problem solving at numerous agencies. Through these experiences he was able to gain valuable skills in how to analytically look at issues that were problematic to communities and the police agencies that serve them. He was able to bring this insight to the Cary Police department and teach officers how to broaden their abilities to deal with community concerns. During his investigative career, Randy was instrumental in solving numerous cases including several that included major burglary rings that were working throughout North and South Carolina breaking into homes and businesses. Randy also developed a comprehensive proposal that led to the agencies first K-9 team. Responsibilities included the selection of the canine, the handler, developing policy, and becoming the supervisor of the team.
During his career, Randy has received numerous awards for his service. These awards include being an Employee of the Year nominee for the Town of Cary in 2006; Officer of the Year for the American Legion Post 67 in 2004; Plaque of Appreciation for the North Carolina Criminal Information Exchange in 2003; Certificate of Appreciation from the South Carolina Police Corps in 2001; Certificate of Appreciation from the United States Secret Service in 2001; Town of Cary Merit Award for a Burglary Investigation in 2000; Advanced Law Enforcement Certificate from the NC Criminal Justice Education and Training Standards Division in 1998; Town of Cary Merit Award for developing the Cary Retailers Information Exchange Program in 1996; and numerous letters of appreciation/commendation from citizens, department members, and other agencies.
Randy's community activities have centered on giving back to officers with the Cary Police Department and the State of North Carolina as the President of both the Cary Chapter and the North Carolina Division of the Police Benevolent Association. As President of the Cary Chapter, he was instrumental in developing the 'George Almond' Officer of the Year Award. For nine years the Cary Chapter has held an annual banquet that honors the exemplary service of Cary officers while remembering the sacrifice and effort that fellow officer and PBA member George Almond made in his recovery after being shot in the line of duty. During this banquet, thousands of dollars have been raised for the Police Benevolent Foundation to provide funding for families of fallen officers.
As division President, Randy has worked in the General Assembly to support legislation to improve the lives of officers and survivors. His work with the PBA has led to two significant appointments that have given him the opportunity to have input with the local and state retirement systems. In 2010, he was appointed to the North Carolina Future of Retirement Study Commission. This appointment was for eleven months. In 2012, he was appointed to the Board of Trustees for the State and Local Retirement System. This appointment was for a four year term.
Randy is a 1998 graduate of Campbell University and has completed graduate work through the NC State University's Administrative Officers Management Certificate Program (2007).
Randy is engaged to Stephanie Lee and has two daughters through a previous marriage, Hailey, and Jayme.