North Carolina Police Benevolent Association Holds Annual Board Meeting
Sep 15, 2015
New Elected Board to Serve Members for Three Year Term
On August 28, 2015, Chapter leaders met in Cary for their division meeting and to select officers for a three year term. Randy Byrd who serves as the Cary chapter President was elected to serve another three year term as President. Brandon McGaha who serves as the Mountain Chapter President was selected as Sr. Vice President. Wardell Williams who serves as the Corrections Chapter President was elected Vice President. Finally, Tom Slymon who serves as the North Mecklenburg chapter President was elected to serve as Secretary.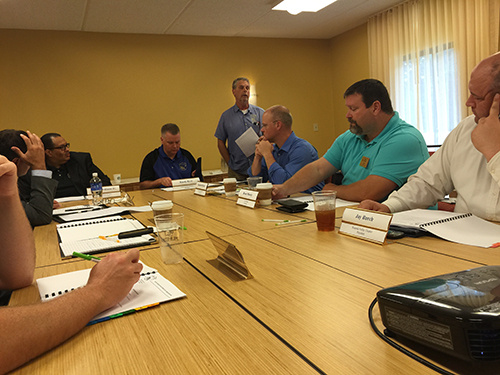 PBA Recruiter Tommy McKoon Speaks to the Board about membership growth
Before the meeting, Senior Associate North Carolina Supreme Court Justice Robert Edmunds Jr. and Senator Tamara Barringer dropped by to meet with the members. Both of these public servants have become good friends of the PBA and care deeply for law enforcement. Justice Edmunds started his career as an Assistant District Attorney, Eighteenth Judicial District, in Guilford County before moving on to become Assistant United States Attorney for the Middle District of North Carolina from 1982 to 1986. He was responsible for coordinating the investigation, preparation, and trial of criminal violations, including drug trafficking, food stamp fraud, credit card fraud, gray-market smuggling of automobiles, bank fraud, bank robbery, firearm violations, social security crimes and other federal offenses. President Reagan appointed him United States Attorney for the Middle District of North Carolina in 1986 and he served in that capacity until 1993. During his tenure he supervised the office responsible for representing the United States in Federal Court and handled a variety of criminal and civil cases. In addition to trials, his work also included briefing and arguing cases that were appealed. After several years in private practice he was elected to the NC Court of Appeals in 1998. In 2000, he was elected to the North Carolina Supreme Court and is currently serving his second term after being re-elected in 2008. Justice Edmunds has received numerous awards during his career and has written articles for several publications. Justice Edmunds received his undergraduate degree in English from Vassar College, his law degree from UNC-Chapel Hill, and a Master of Laws in the Judicial Process from the University of Virginia. He is a member of the Holy Trinity Episcopal Church in Greensboro and a veteran of the United States Navy. He is married to Linda Edmunds and they have two adult sons.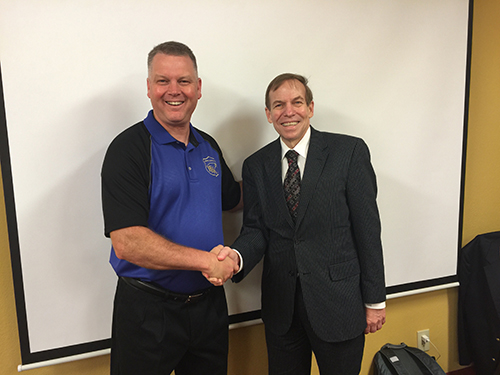 NC Division President Randy Byrd and Senior Associate Justice Robert H. Edmunds Jr.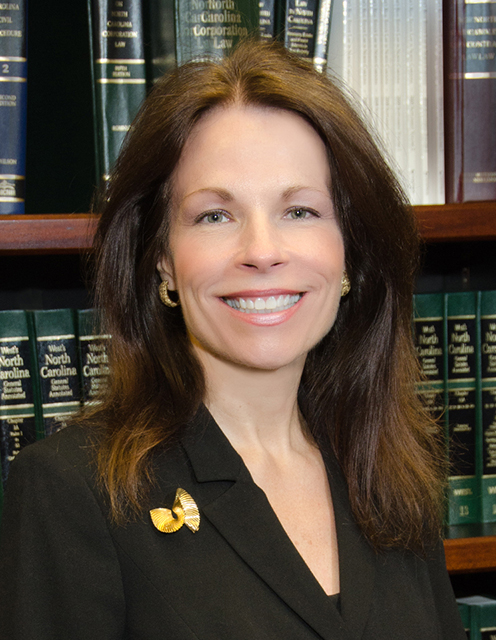 Senator Barringer is serving her third term in the NC Senate and represents the citizens of southwestern Wake County to include Cary, Fuquay Varina, Apex, and Holly Springs. She serves as Co-Chairperson of the Judiciary II C
ommittee and is also Vice-Chairperson of the Commerce Committee. Senator Barringer is an attorney by trade and now teaches accounting law full-time at the University of North Carolina-Chapel Hill Kenan-Flagler business school. She is also active with the Girl Scouts and teaches sailing and canoe classes through both programs with the Girl Scouts and American Red Cross. In her free time, she enjoys the outdoors, paddling, hiking, and camping. Senator Barringer is married to Brent and they have three children.
In addition to meeting with Senior Associate Justice Edmunds and Senator Barringer, the PBA recognized several contributors to the Police Benevolent Foundation. The Police Benevolent Foundation is a tax-deductible 501(c)(3) organization established by the Southern States Police Benevolent Association (SSPBA) in 2005. The PBF provides financial support for the families of fallen law enforcement officers whose deaths occur in the line of duty; funds scholarships for children of law enforcement officers; provides assistance for law enforcement officers affected by natural disasters; and educates law enforcement officers and their families about the dangers of Post Traumatic Stress Syndrome & Suicide Prevention. Earlier this year, over $18,000 was raised for the Foundation through the 'George Almond' Officer of the Year awards banquet. Dan Thomas with Whole Foods in Cary; Al Sutton with Lawmen's Safety Supply in Raleigh; and Seth Gunderson of T-Box Barrel Company in Fuquay Varina were presented plaques of appreciation for their support.
During the meeting the board was pleased to be joined by Southern States PBA President Chris Skinner, Director of Legal Services for SSPBA Joni Fletcher, SSPBA Director of Communications and Public Affairs Tim Reichert, SSPBA Assistant Financial Director Carl Gantt, NC Membership Recruiter Tommy McKoon, NC Division Executive Director John Midgette, and SSPBA Administrative Services Manager Gayla Johnson. The board left the meeting knowing that the North Carolina PBA is the largest law enforcement association in North Carolina and that membership continues to grow at a rapid pace. The Board also discussed the location to hold the next Race for the Fallen Glow run in support of the Police Benevolent Foundation.
At the conclusion of the meeting, the Board heard a guest presentation from Dr. Moira Artigues, M.D Psychiatrist, who has been working with the PBA in a broad range of litigation. Dr. Artigues is a Forensic Psychiatrist with vast experience in providing expert testimony. Dr. Artigues graduated from Medical University of South Carolina College of Medicine in 1995. She completed a residency at Duke University Medical Center. Dr. Artigues is board certified in Psychiatry and has her practice in Cary.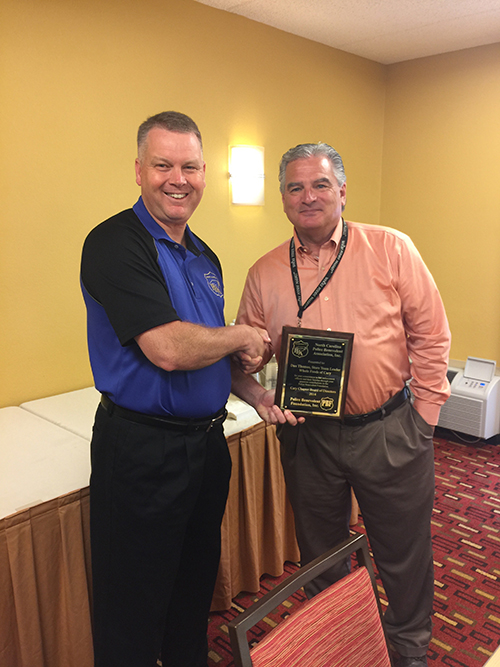 NC Division President and Dan Thomas with Whole Foods of Cary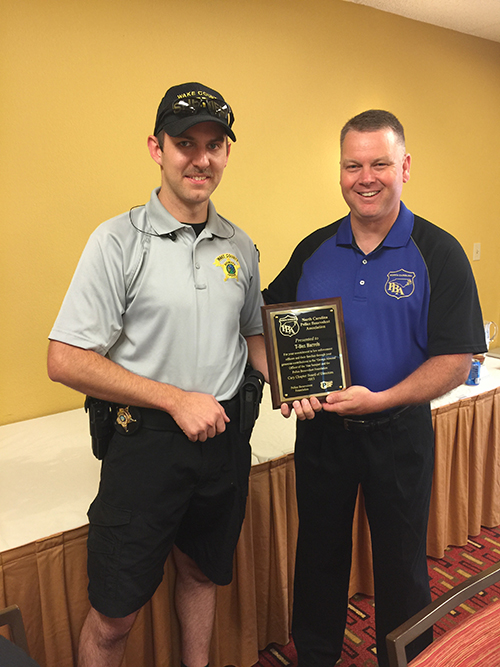 NC Division President Randy Byrd with Seth Gunderson of T-Box Barrel Company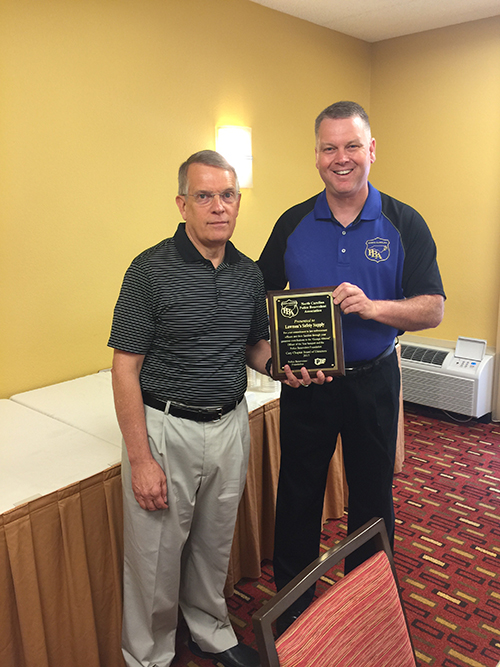 NC Division President and Al Sutton with Lawmen's Safety Supply