Cary Chapter to Host 8th Annual George Almond Officer of the Year Banquet
Jan 21, 2014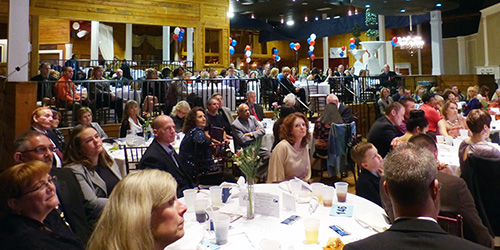 The PBA has long held the reputation for educating the public about the daily work of law enforcement officers and the sacrifices they make to keep their communities safe. Through these education efforts many relationships with the community have led to partnerships that have benefited members of the PBA. The PBA also has an extensive history for creating solid and sustainable relationships with elected officials to effect positive change for their members.

The Cary chapter continues to take this process of education, partnerships, and relationship building to a new level. Every year the Cary Chapter brings together elected officials, officers, and the community to showcase the talents of police officers and honor the legacy of retired Detective George Almond.

The Cary Chapter Board, in their first year chose to sponsor an Officer of the Year award in honor of retired Detective George Almond. Almond, a PBA member was shot in the line of duty in October of 2001. He survived the shooting and returned to duty as a detective in juvenile investigations before retiring in August of 2004. The award recognizes outstanding achievement in the areas of leadership, community service, mentoring, excellence in performance, and valor. Five finalists will be recognized during the awards ceremony. George Almond will make the presentation to the final recipient selected from this group.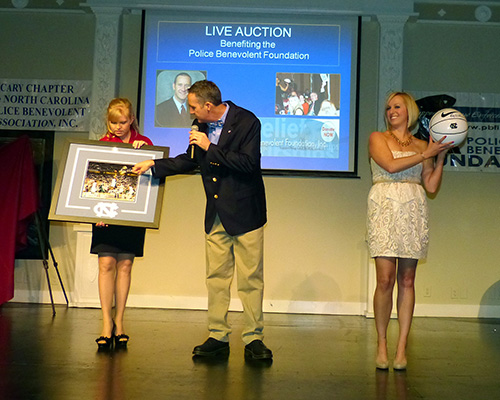 The 8th annual awards banquet will be held at the Cypress Manor in Cary on February 15, 2014. Registration is from 5 to 6 p.m. For full details on the event and to purchase tickets or to serve as a host or sponsor please

click here

to download a brochure. As part of the festivities a live auction will be conducted to raise funds for the

Police Benevolent Foundation

.

According to Cary Chapter and North Carolina Division President Randy Byrd, "The Cary chapter has been very committed to this project since its inception. This annual event has been a phenomenal success and speaks volumes to the respect that George Almond has with fellow officers and the community he once served. In creating this award we wanted to ensure that George's sacrifice for the citizens of the Town of Cary is never forgotten, while at the same time recognizing exemplary performance by those following in his footsteps."

For further information please contact Randy Byrd at 1-800-233-3506 ext. 311 or by email at rbyrd@sspba.org
.